Monday, August 22, 2011
Posted by Chris Beason | Monday, August 22, 2011 | Category:
Cake
,
yellow cake
|
The other day Valerie with Simple Fare, Fairly Simple posted the recipe for this cake. I remembered someone telling me about their grandma making a cake similar to this where you pour the condensed milk over the cake and frost it, but I never knew what kind of cake they were talking about. So when I saw this one I thought, this must be it! It sounds so good I've got to make it.

I had all the ingredients on hand except for the evaporated milk and baking powder. Baking powder and I do not get along at all, but I decided for the sake of trying to follow a recipe EXACTLY like it says that I'm going to try my best to be nice and use the baking powder and I'm going to hope it'll return the favor and be nice to me! So, I ran to the store and got what I needed and now I'm ready to get down to business and make this cake.

Alrighty, here goes...

Laptop on kitchen table with the recipe - Check
Oven preheating to 350 degrees - Check
Butter on the counter coming to room temperature - Check

Okay, so you see I'm ready. It is important to preheat the oven when you're baking a cake. I've also heard some people say preheat the oven to 25 degrees hotter than you need and turn it down to where it's supposed to be after you've put the cake in the oven because opening the oven door makes it lose 25 degrees. Well, it almost makes my head hurt to think about all the little nit-picky things you can do just to achieve ultimate perfection. I'd probably forget to turn my oven down anyway, so I'm just going to keep it simple and preheat my oven to 350 degrees.

To get the measurements for this recipe, go here - Tres Leche Cake.

For the cake part here's what we'll need:

Butter
Sugar
Vanilla
Eggs
All-Purpose Flour
Baking Powder

Got everything? Me too! See, we're off to a good start. You just need a few more simple ingredients for the final touches.

Milk
Evaporated Milk
Sweetened Condensed Milk
Whipping Cream
Powdered Sugar
Vanilla

I'm thinking this cake is going to make my quick trip to the store well worth it! If you need to run and get anything, go ahead, I'll wait on you.

Welcome back! Are you ready? Let's make Tres Leche Cake! I couldn't figure out how to pronounce this right and was on the phone with my daughter telling her about this cake. She finally said, "Mom, you were born in America, you should know Spanish!" What?? Then she says, "I know where I got my brains from (meaning from me :), the only reason I know what you're talking about is because a lady called the bakery today to ask if we made it." I just shook my head and smiled, but I'm still so excited. The name alone makes it sound just so delish! Alot more exciting than if you just called it Three Milk Cake.



Preheat oven to 350°. Using cooking spray, grease a 9x13 inch baking dish. Measure a piece of parchment paper to fit in the bottom of the pan. Spray paper and pan again using Baker's Joy…or grease and flour.
Well, I don't have parchment paper, but I checked with Valerie and we should be good to go to leave the cake in the pan, so I'm going to grease the pan with some shortening and flour it or you can use Baker's Joy if you have it. Baker's Joy and I aren't on speaking terms at the moment, so for now I'm sticking to the old fashioned way of doing things.
Okay, the pan is greased and floured.
Beat butter and sugar at medium speed with an electric mixer until fluffy.
My butter isn't quite soft enough to be considered room temperature, so I'm going to nuke it in the microwave for about 10 seconds. While that's nuking I'm going to put my sugar in the bowl. Alright, butter is nuked. Add it to the bowl and turn on the mixer.
Viola! Fluffy butter and sugar.
Mix in eggs, one at a time, and 1 teaspoon vanilla.
Make sure your eggs end up in the bowl and not on the floor like one of mine did!
Everything is now fully incorporated. I heard someone using that word the other day as a guest on a cooking segment of The Today Show. Everything was incorporate this, incorporate that, make sure it's fully incorporated...I'm thinking she was pretty nervous! I know I would have been!
Combine flour and baking powder; add gradually to butter mixture, stirring to blend.
Baking powder don't do me wrong!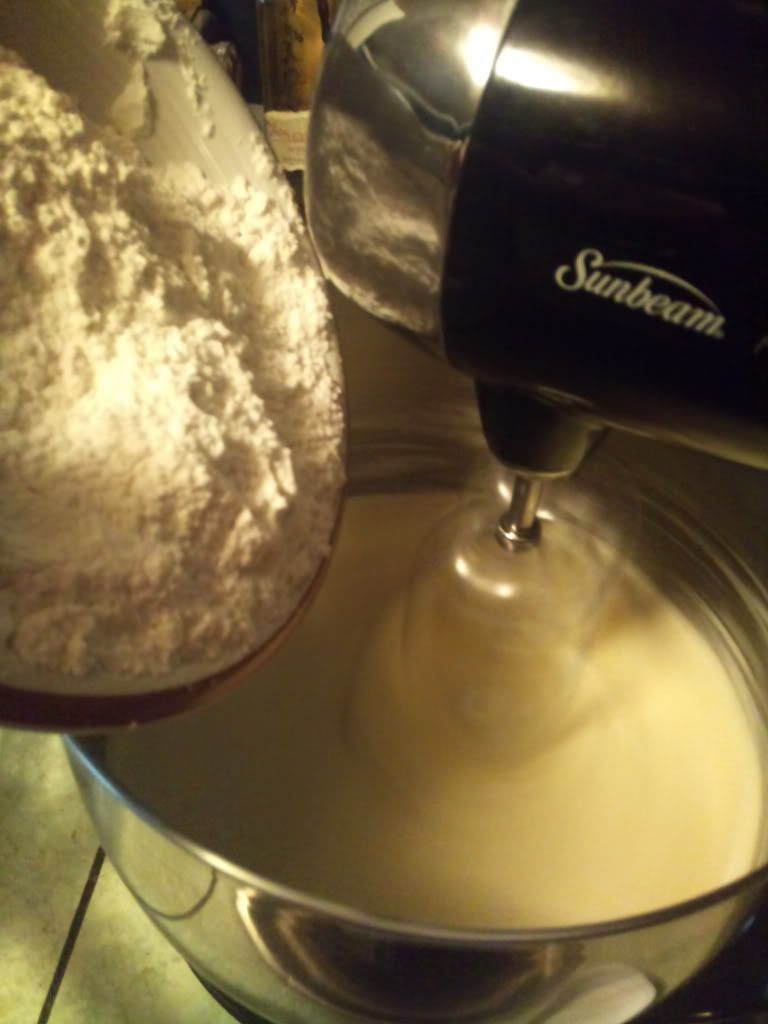 Cross your fingers and mix up the flour and baking powder in a small bowl and gradually add it to the mixture. The batter seemed to be getting thick as it blended.
Pour batter into prepared dish, and bake at 350° for 30 minutes or until wooden pick inserted in center comes out clean.
Well, it seems like a really thick whipped cream. That's the best way I know to describe it! I bet my hubby wishes he was home to lick the bowl. This stuff is wonderful!
Batter is in the pan. Now it's time to put it in the oven.
Allow cake to cool about 10 minutes. Invert a serving platter onto the top of the baking dish. Flip so the cake is in the serving platter. Pierce cake with a fork all over.
Alright, the cake is out of the oven and cooling. I'm going to keep my cake in the pan so let me get my fork and we'll get to poking it.
Combine the 3 milks, and pour on top of cake. Allow to cool to room temperature. Cover and refrigerate until well chilled, at least 4 hours or overnight.
The milks are mixed and the cake is ready.
I thought for a second there it was going to overflow, but only for a second.
The cake soaked it right up! As soon as it cools down a little more, I'll pop it in the fridge and let it sit there until after supper.
Beat whipping cream, powdered sugar, and 1 teaspoon vanilla at medium-high speed with an electric mixer until thick; spread over cake, and serve.
I put my metal mixing bowl and beaters in the fridge when I put the cake in the fridge so they would be good and cold when I got ready to make the whipped cream.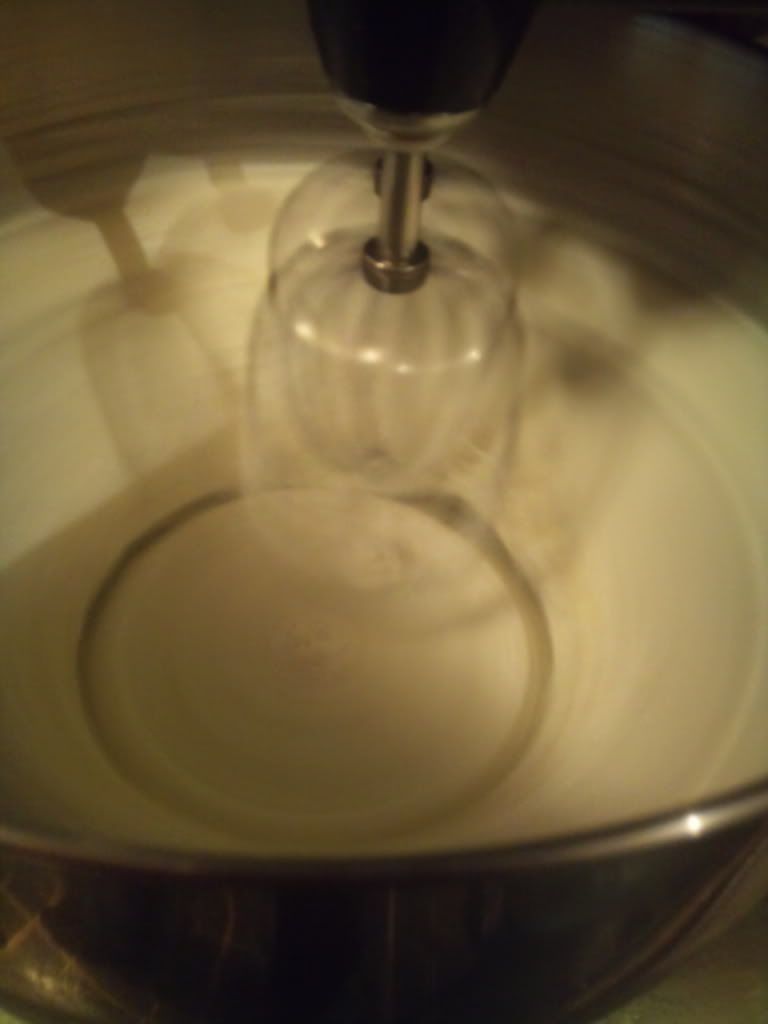 That stuff is thick!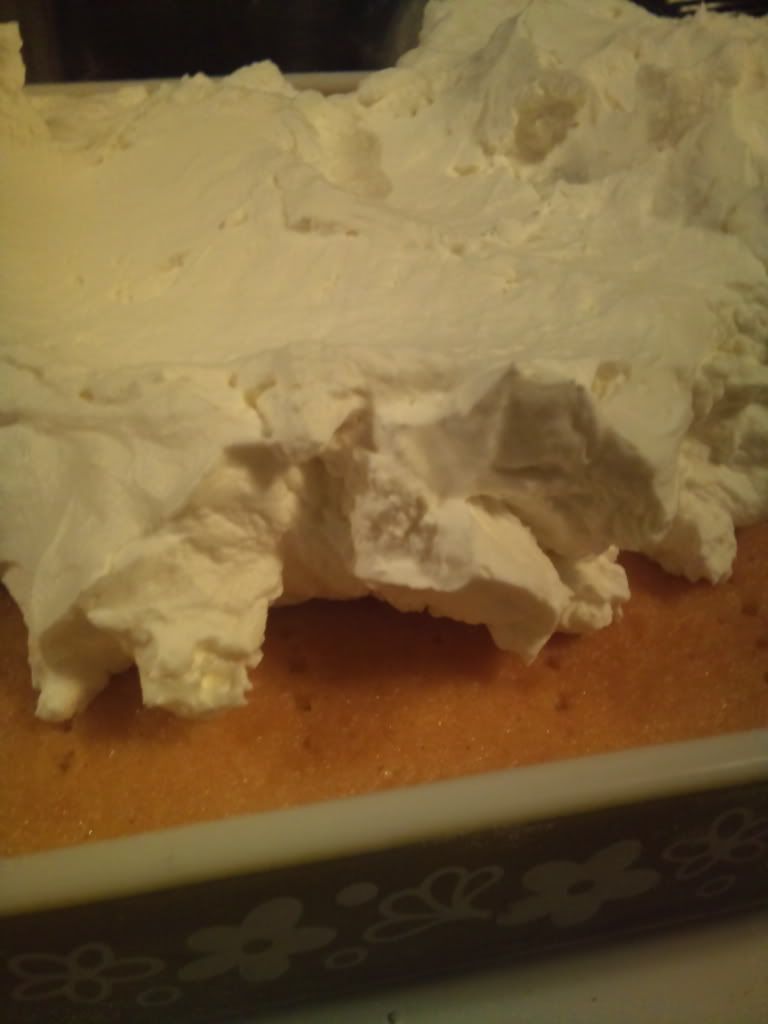 Now all is left to do is serve. How 'bout a piece?
Hubby really liked it. It is best if you can let it sit overnight. After 6 hours the cake had a little bit of a dry texture, but the next day the cake had soaked up the milk even more and it was great!