Monday, April 18, 2011
If you're a fan on my Facebook page, then you know I made a birthday cake for my daughter who just turned 18 Saturday. I'm sorry I'm posting this so late, but I had a full day riding and hanging out with a bunch of bikers and then came home and made Chicken Fajitas for my husband who so graciously requested that I make them by leaving a comment for me here. Then of course we had birthday cake! Everyone has just now left and I've talked my husband into staying up just a few more minutes so I could get this posted! (Turns out I needed more than just a few minutes so I decided to finish it this morning.)

I dreaded making this cake because I was so afraid that it wouldn't turn out right. Truth be told, I put off making it until 9 o'clock Saturday night because I was still debating on actually making it even after going to the grocery store and buying everything for it. When my daughter said, "that is the coolest cake I've ever seen," I was so glad I didn't talk myself out of making it.

Before I show you what I made and how I made it, I want you to know that baking, cooling and frosting time total it took me two and a half hours and that included time I spent debating on the ganache. So while it looks like a lot of work, it's not the easiest cake I've ever made, but it's really not as difficult as I thought it was going to be. It is one of the best cakes I've ever made.

First, I used Duncan Hines French Vanilla and Strawberry Supreme cake mixes to make two round white cakes and two round strawberry cakes. I followed the directions on the box except that the directions said it would take 28 to 31 minutes to bake, but it actually only took 25 minutes for the vanilla and 21 minutes for the strawberry cakes. Once I had transferred the cakes to a cooling rack, I used a serrated knife to cut off the very top of the cake where it puffed up in the middle to level it out so they were flat.


When the cakes had completely cooled, I took a saucer and set it in the middle of each cake and cut around it with a knife. The vanilla cakes had cooled the longest since I baked them first. I noticed that they were easier to work with so the longer you have to let them cool before cutting them, the better.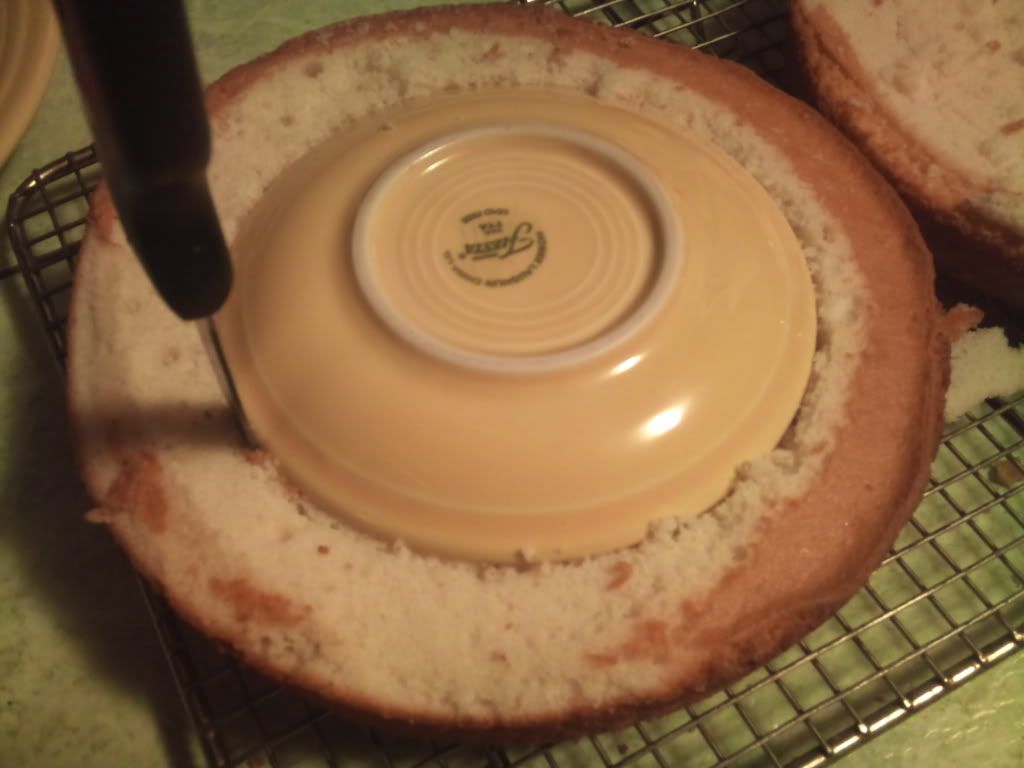 Then I set a coffee cup in the middle of each cake and pressed down just enough to make the impression of the circle and used it as a guide to cut the center ring of the cake.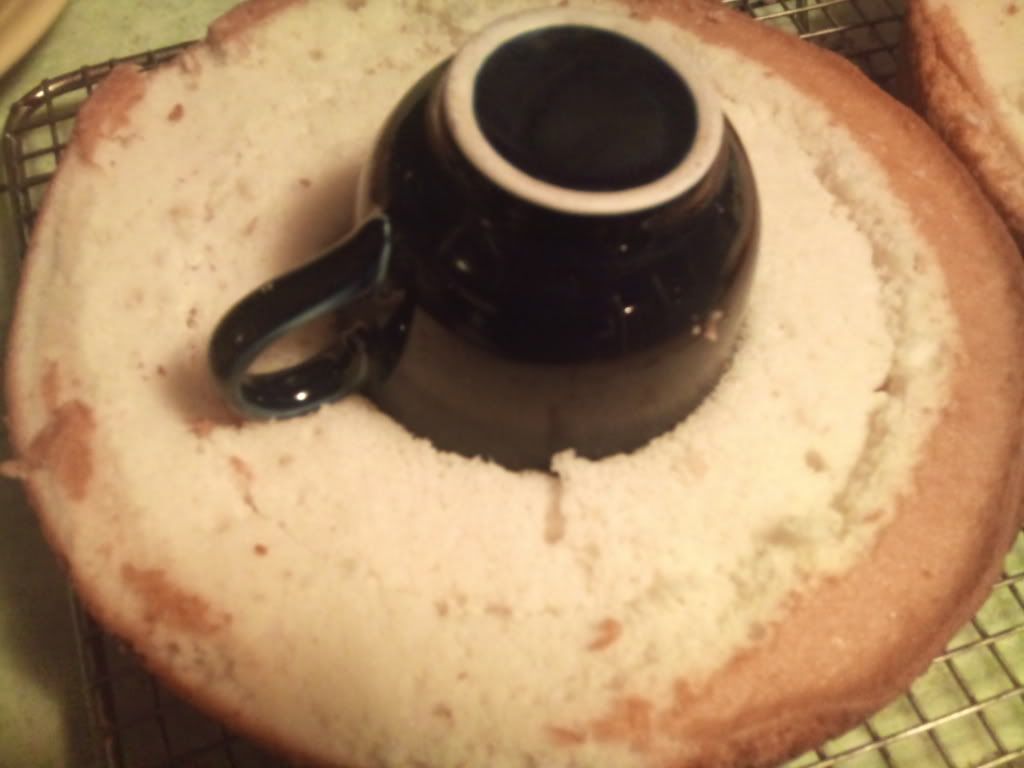 Carefully, I took one of the outside rings of the strawberry cake and put it on a cake plate. Then I took an inside ring of one of the vanilla cakes and put it inside the strawberry ring and then put in a strawberry center. Then I did the rest of the layers so that I ended up with this:
I made a Strawberry White Chocolate Ganache to go in between each layer. I've never made a ganache. I'm still really not even sure how to pronounce it. To top it off, I couldn't find a recipe for strawberry ganache, but I saw where people had added strawberry jello to make strawberry buttercream frosting. So I decided I would use white chocolate, cream and strawberry jello to make strawberry ganache. This was another reason why I was second guessing myself. I could have used buttercream to go in between the layers, but I wanted this cake to be great. So do I settle for pretty with the same old taste? Nope, I decided I'd gotten this far with nothing too disastrous happening so I carried on and started making the ganache.
I put 6 ounces of white chocolate in a bowl.
Then I heated up a 1/2 cup of heavy cream in a pan on the stove on medium-high. When it just started to bubble I poured in about 1/2 a package of strawberry jello and stirred to try to dissolve the jello as much as I could without scorching the cream.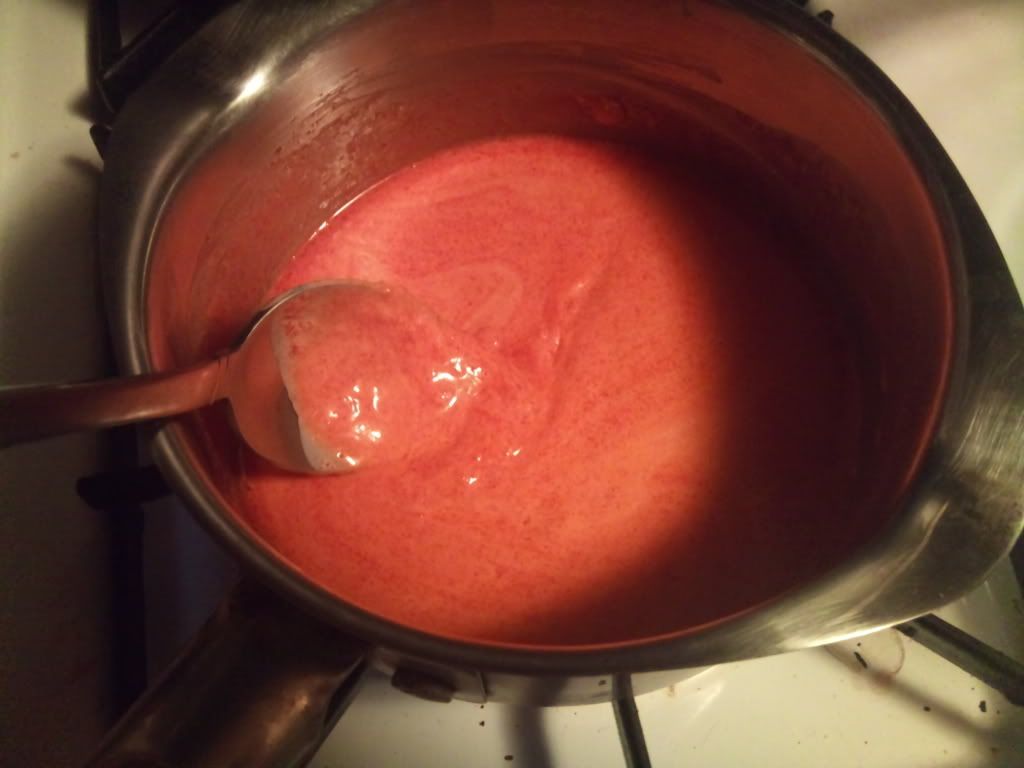 Once the cream turned a bright pink I decided the jello had probably dissolved enough and I turned off the burner. Then I poured the pink cream over the white chocolate and stirred it until the chocolate melted.
Then I tasted it. Pretty good stuff and it was easy! This opened a whole new door. Can you imagine the different flavors of ganache you can make? Lemon, grape, watermelon, peach.... Okay, back to the cake.
Using the tablespoon I scooped up some ganache and poured it over the first layer. I used the spoon to spread a thin layer over the cake.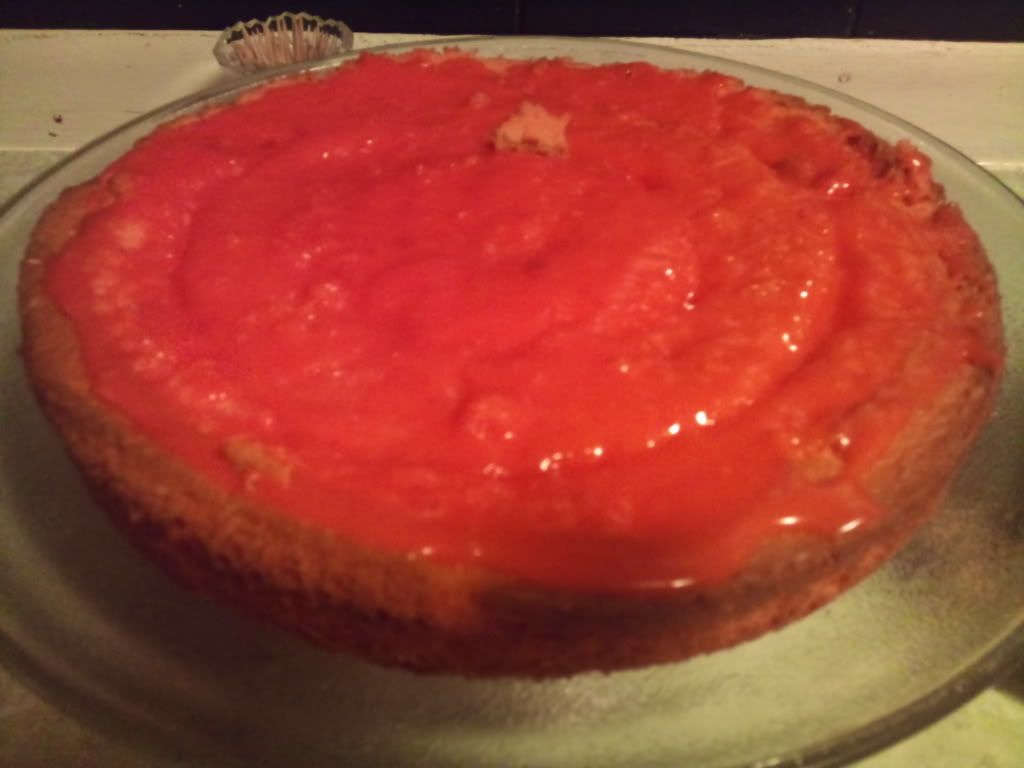 Then I put a cake with a vanilla outside ring on top.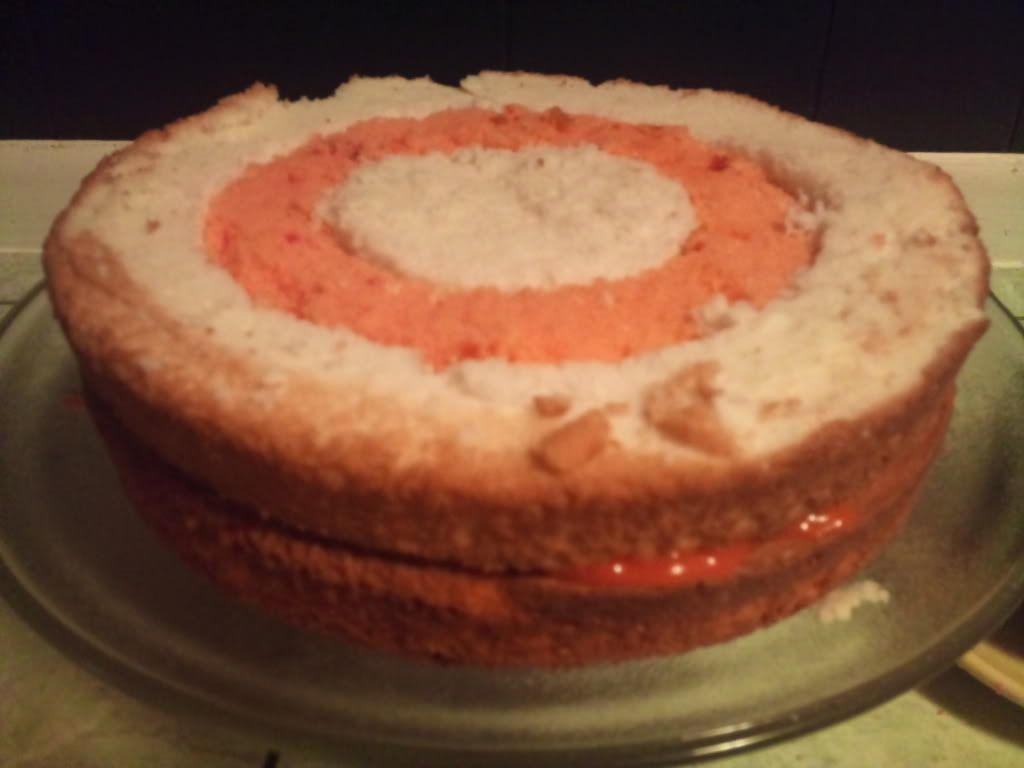 Spread on more ganache, put a cake with a strawberry outside ring on top, more ganache and then the final layer. The picture below shows three layers, but this was because I started chickening out again when I thought about putting on the fourth layer. I pictured the whole thing leaning like the Tower of Pisa. However, the ganache actually kept it from sliding. I forgot to take another picture after I added the fourth layer, but this is how the top layer needs to go on so that you'll have a flat top.
Once this was done and I saw the cake was staying in place, I breathed a huge sigh of relief and put it in the refrigerator while I made Vanilla Buttercream Frosting. Cakes are so much easier to frost when they are cold. By this time it was getting closer and closer to midnight so I didn't take any pictures of making the frosting or frosting the cake, but I did get a picture of the final result.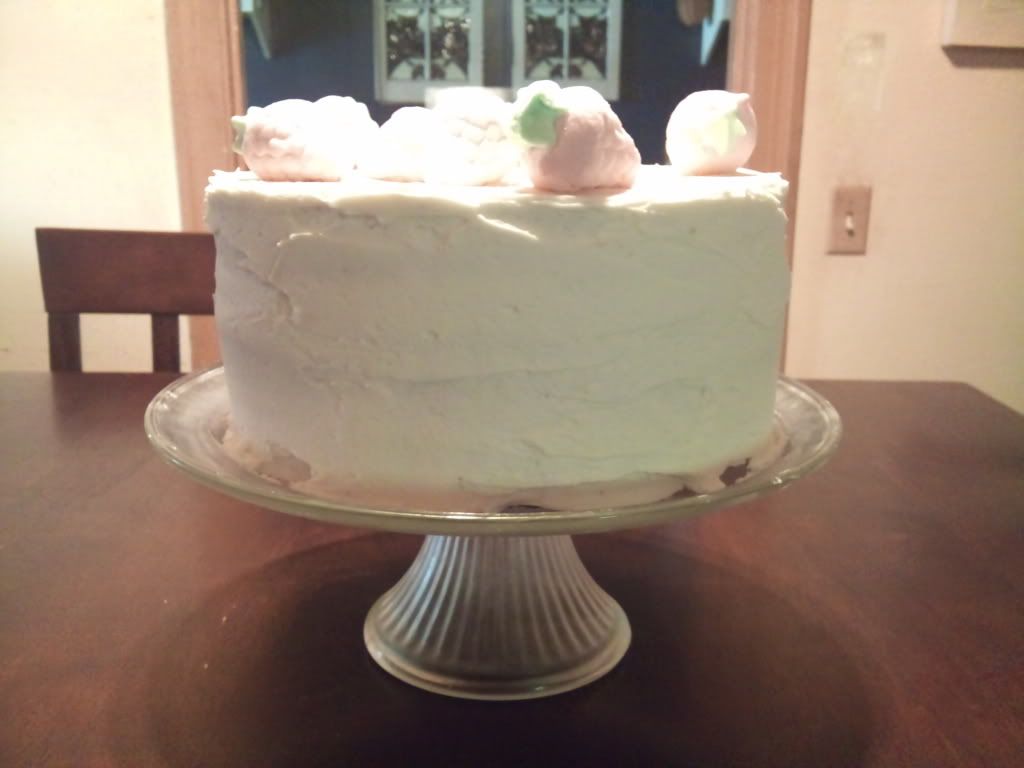 Actually, this was the final result!