Monday, April 4, 2011
It seems like forever since I cooked Chicken Cordon Bleu. To tell you the truth, I'm not even sure what we ate last week. However, I do know what we've eaten so far this week. Lots and lots of cake! Friday afternoon I baked a cake and for one reason or another I didn't end up frosting it until Friday night. We actually had company. My friend saw the cake sitting on the counter cooling and asked when I was going to frost it.

To tell you the truth, I've learned that it's a little embarrassing to cook in front of people these days, but I am learning to get past it for your sake and for the sake of all those who think cooking is so hard! I take pictures of everything I do in the kitchen. The other day I made sweet iced tea and took pictures of that. You never know when I might decide to post it. There was a day when I didn't know how to make sweet tea. Well, I made sweet tea, but it would turn cloudy or would sour the next day. Now when friends come over, they ask for a glass of my sweet tea.

So sweet iced tea will be a post for another day. Today I'm going to tell you how I made Chocolate Cherry Torte. I was actually making Black Forest Cake, but I did a little research and discovered that true Black Forest Cake has cherry liquor in it, also known as kirsch. However, I did use the recipe for the cake part. I'm still trying to recreate a cake I made when I was a kid. I thought using semi-sweet chocolate was the key, but it wasn't. It was close, but just not quite there yet. The cake part was a little more trouble than it was worth and since this "torte" is a little bit of work, if I did it over again, I would have probably used a cake mix or a basic chocolate cake recipe because it's the frosting and filling that make the cake.

My husband wants me to make him a Red Velvet Cake "from scratch" for his birthday in a couple of weeks. I asked him if he could really tell the difference between a box mix and a cake made from scratch. He says that sometimes he can. I think I'll make him take a taste test between now and his birthday. Stay tuned for that post because I definitely will be posting about it! For now, lets talk about that Chocolate Cherry Torte I made.

I use Baker's Joy spray to grease and flour my pans. Once I made my cake batter, I split it between two round cake pans.


After baking the cake for about 25 minutes, I checked them by sticking a toothpick in the middle of the cake and pulling it out. The toothpick was clean. I pulled them out and set them on a rack to cool for 10 minutes.
Five minutes later, my husband asked me to go somewhere with him. I didn't want to leave the cakes in the pans until we got back so I went ahead and took them out of the pan to cool on cake racks. I put the rack on top of the pan and then flipped the pan over.
A little bit of the bottom of the cake stuck to the pan. Probably because I didn't let it cool long enough. It wasn't really stuck. I just carefully lifted it off the pan and put it back on the cake. You can't tell with frosting on it!
Several hours later....
I cut each cake in half so that I had four round layers. Using the longest knife I had, I carefully cut around each layer to split it in half.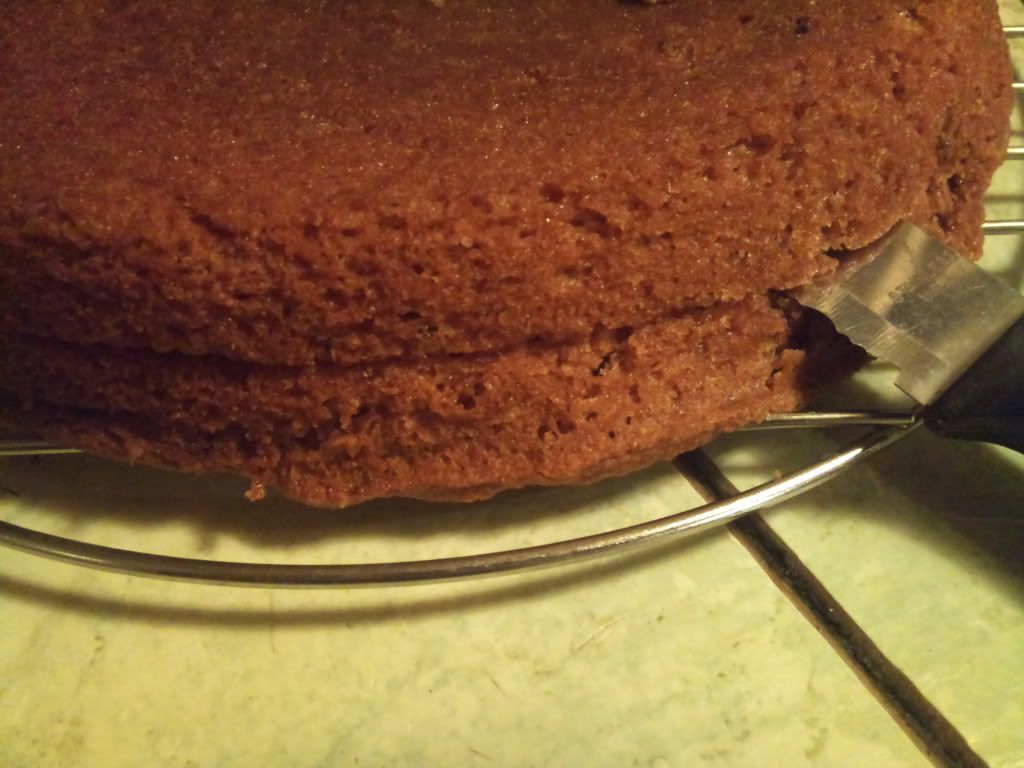 I used the recipe off the back of the Hershey's cocoa can for the frosting. My husband really likes this frosting. For the filling, I used a can of Lucky's cherry pie filling and Cool Whip. When you buy pie filling and Cool Whip, I recommend buying the name brand. I've tried the generic and store brands and they're just not as good in taste or quality.
I took one of the layers and put it on a cake plate and spread frosting over the top of it. Then I took another layer and set it on top of the frosted layer.
Next, I put a thick layer of frosting just around the edge of the cake to hold in the cherry filling. I spooned the cherry filling out of the can and put it in the middle of the frosting.
Then I took Cool Whip and spread a generous layer over the top of the cherries and put the third layer on top and frosted it.
Then I put the top layer on and frosted the sides and around the edge of the top of the cake. In the middle I spread cool whip and the rest of the cherry pie filling. Like I said, I had someone watching and forgot to take a few pictures, but I think you get the general idea.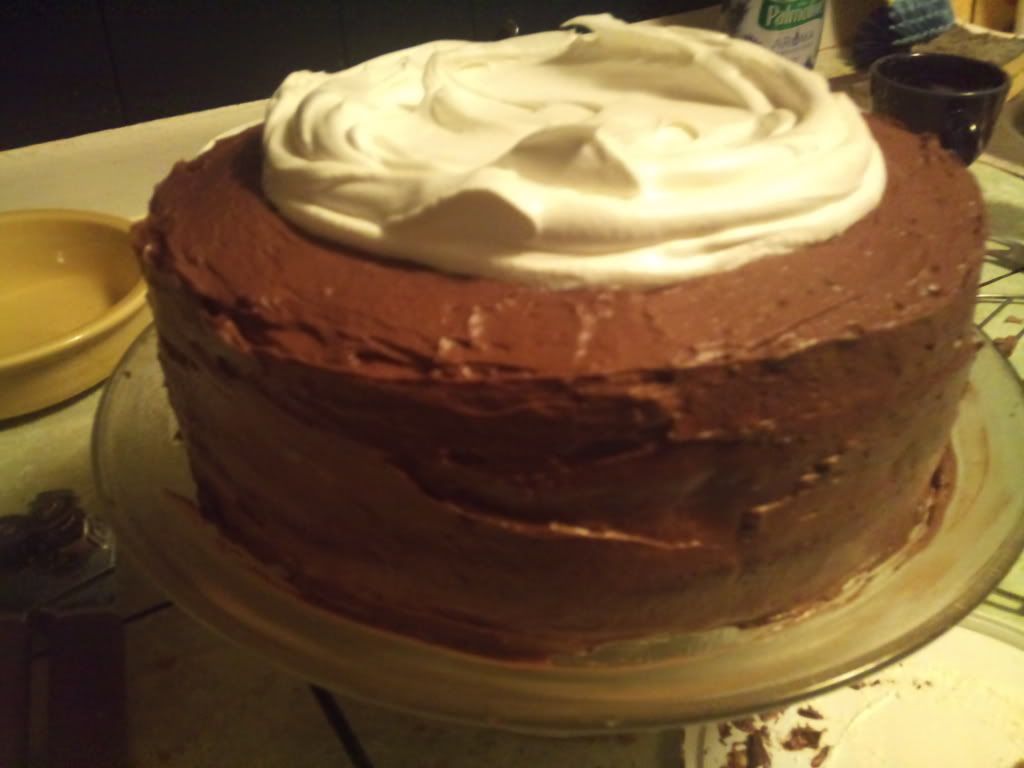 Knowing what I know now, I would have put the cakes in the refrigerator since I was going to be serving it immediately after frosting it. It would have been fine if I had frosted it and then put it in the refrigerator for several hours before cutting it. However, it was still really good and it really didn't look all that bad.
We still have a few more pieces left, but I imagine it'll be gone tomorrow!