Thursday, March 31, 2011
This isn't your typical Chicken Cordon Bleu, but it can still be considered Chicken Cordon Bleu because it's chicken rolled around a pork meat and a soft cheese. I looked it up in Wikipedia to make sure the name would still work for it. I also found out it is actually French. The name that is. It translates to Chicken Blue Ribbon. The dish itself is American and was first referred to in 1967 in the New York Times. So, how's that for a lesson in French and history of chicken. Now I'll show you how easy it is to make!

Before I show you how it's done, I thought I'd share a little lesson in economics with you. I found my 8th grade teacher on Facebook yesterday, so I guess that's why I'm all the sudden feeling teachy. Well, we all now know I'm no teacher because teachy ain't a word, but I am a good food shopper. When I was at the grocery store buying chicken for this dish, I thought that boneless, skinless chicken thighs would be a less expensive way to make it. However, I found out that if I bought a family pack of boneless, skinless chicken breasts it was 20 cents less a pound. Also, the brand name chicken was $3.98 a pound, more than twice the price of the store brand that I paid $1.78 a pound for. If you're on a tight budget like I am, it pays to look around before you just grab what you need. Now I have enough chicken for at least two more meals. You know what that means, next week we'll be having a new chicken dish! Now on to the Chicken Cordon Bleu! (If you imagine Julia Child saying it, it sounds so French!)

Boneless, Skinless Chicken Breasts
Very Thin Sliced Ham
Shredded Mozzarella with an Italian Blend of Cheeses
Italian Seasoned Bread Crumbs
Butter

I turned the oven on 375 degrees. In a baking dish, I put 4 tablespoons of butter and then put it in the oven to melt.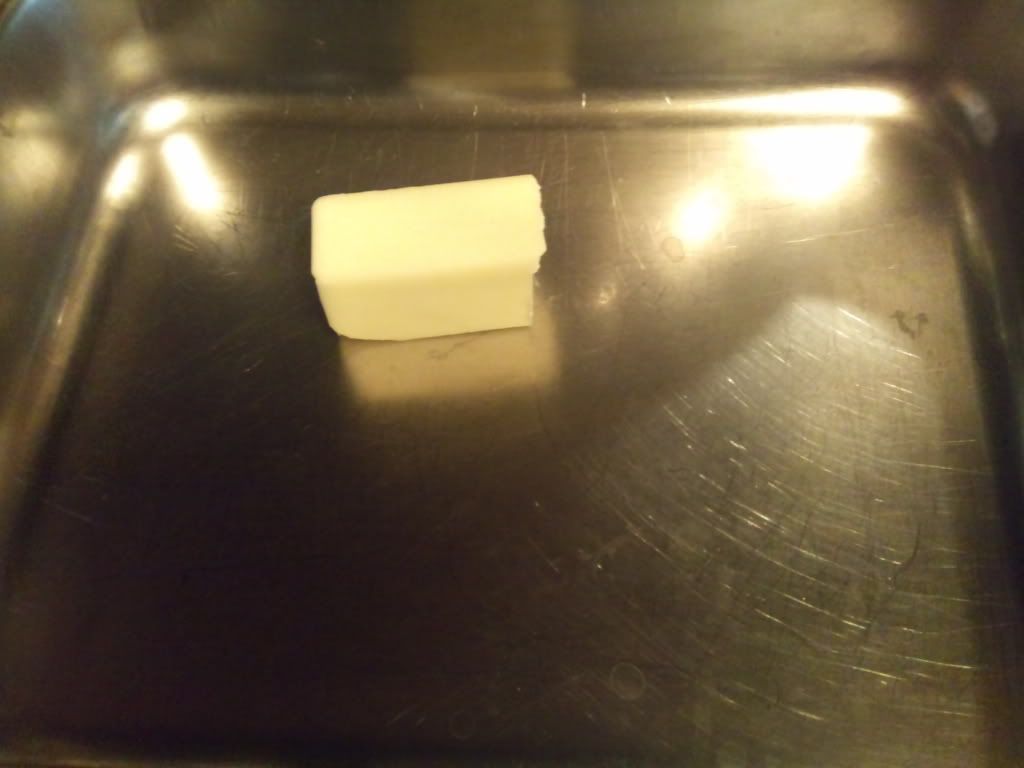 Then I flattened my chicken. I used a meat mallet and my plastic cutting board instead of the glass one. Just a note, after putting chicken on a wood or plastic cutting board you want to use a little bleach and water when you clean it.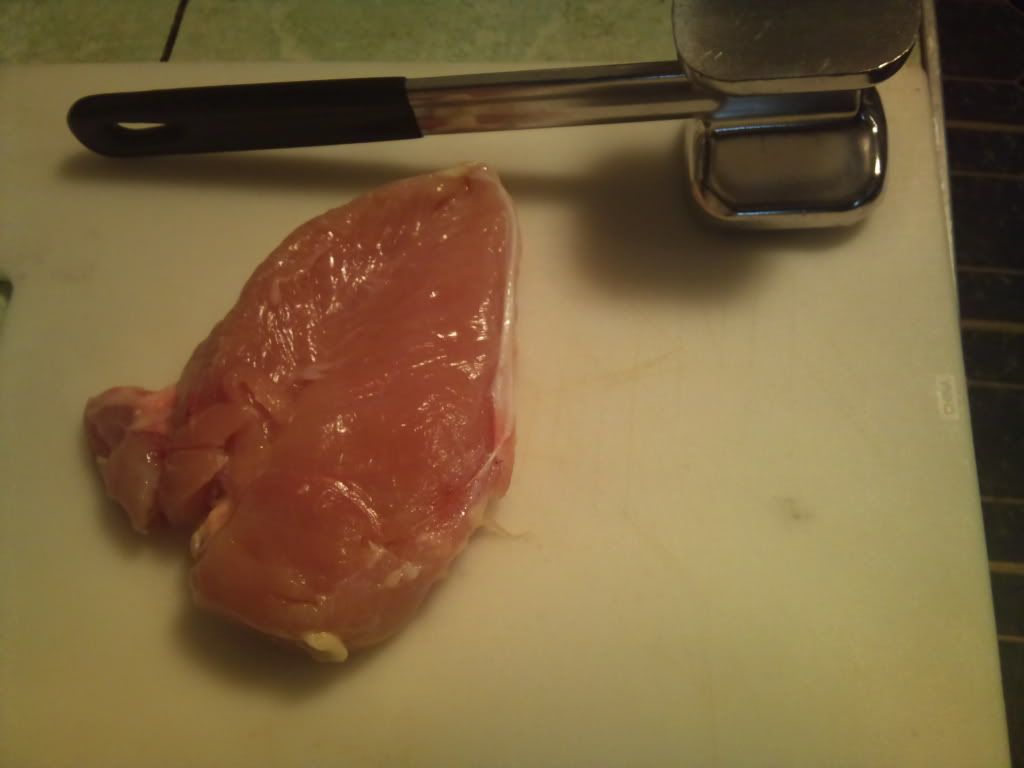 I started by pounding on the thickest part of the chicken. Then I flipped it over and pounded some more. Then flipped it back over and pounded some more until the thickest part was as thin as the thinnest part of the chicken. This takes the most time, but if you have any pent up anger, now's the time to take it out on the chicken. You'll feel so much better afterwards. Who knew cooking could be therapeutic?
A friend was watching me make this and she said, "now that's one flat piece of chicken!" I pounded out all of my chicken breasts, washed my hands and then pulled out about three slices of ham for each piece of chicken. I used Hillshire Farms Ultra Thin Ham. You can get it in the lunch meat section of the grocery store. I put the ham on top of the chicken.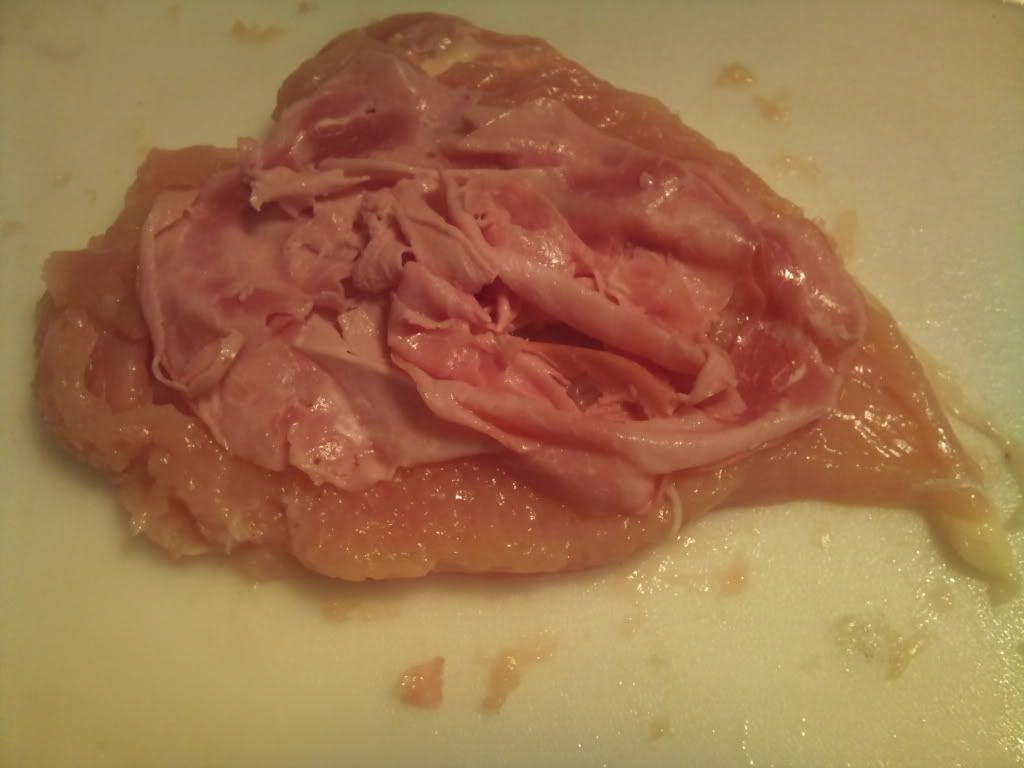 Typically this is made with sliced Swiss cheese, but I don't care for Swiss so I used finely shredded Mozzarella with an Italian blend of cheeses instead. In addition to the Mozzarella, it had Parmesan and Asiago cheeses in it as well. It was almost a dollar less than the sliced Mozzarella and it doesn't slide around when you're trying to roll up your chicken.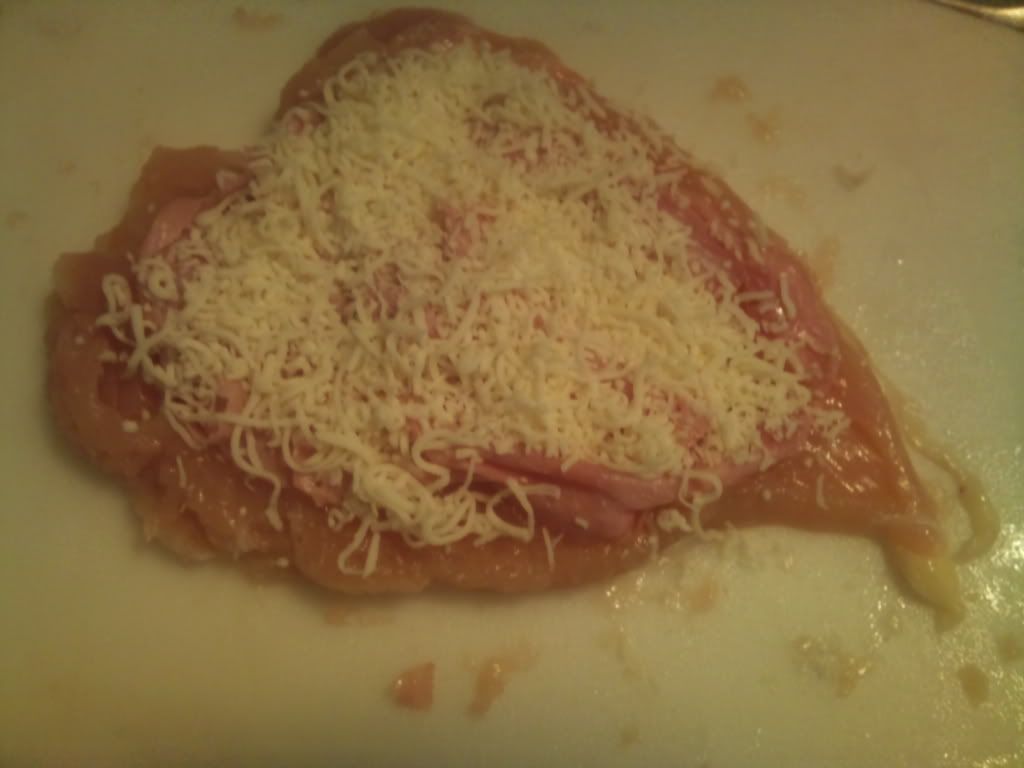 Starting from the bottom part of the chicken, where it makes the "v" shape, I rolled it up and then did the same with the remaining pieces of chicken. If your chicken is flat enough, it shouldn't unroll as long as the seam is on the bottom.
By this time the butter had melted and I took the baking dish out of the oven. I poured the bread crumbs on a plate and mixed in a small handful of shredded cheese with it.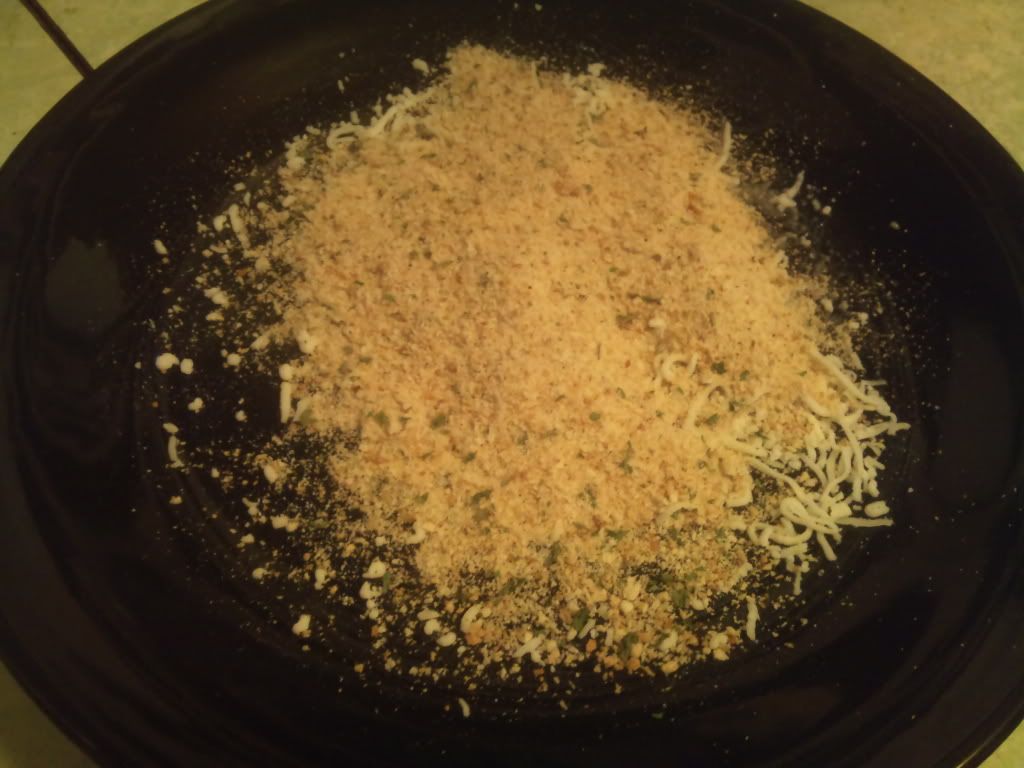 Carefully, I rolled each piece of chicken in the butter and then in the bread crumbs. Make sure you roll the chicken as if you were still rolling it up and it will stay together. If you roll the opposite way, it will unroll. Just roll it back up and continue rolling it until it's coated with butter and bread crumbs. Then I put them in the baking dish and sprinkled a few more bread crumbs over the chicken.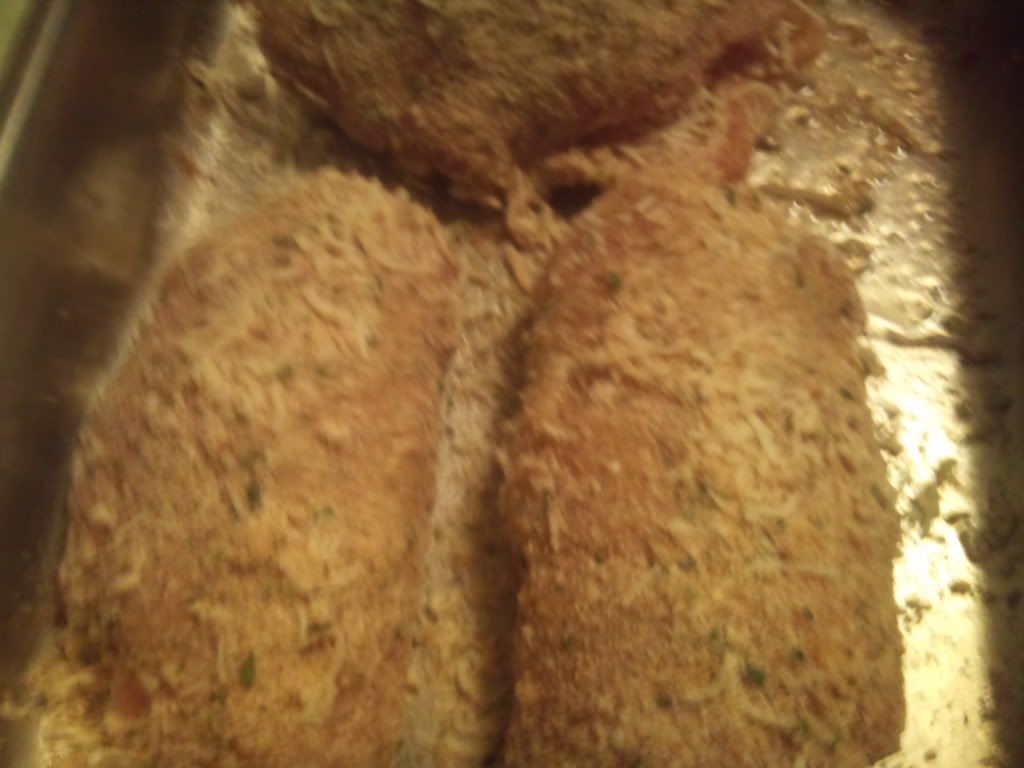 I put the chicken in the oven to bake for about 35 minutes.
While the chicken was baking, I started on the sauce. I was trying to decide what kind of sauce to use on top and decided on making a cheese sauce. You could use hollandaise,
aioli
or I even thought about spaghetti sauce, but figured I'd save that idea and use pepperoni instead of ham.
2 tablespoons Butter
1 tablespoon Minced Garlic
1 tablespoon Cornstarch
1 cup Milk
1/2 cup Mozzarella with Italian Blend Cheeses
Salt
Pepper
First, I mixed together the cornstarch and the milk in a small bowl and put the cheese in a measuring cup and set it within reach of the stove.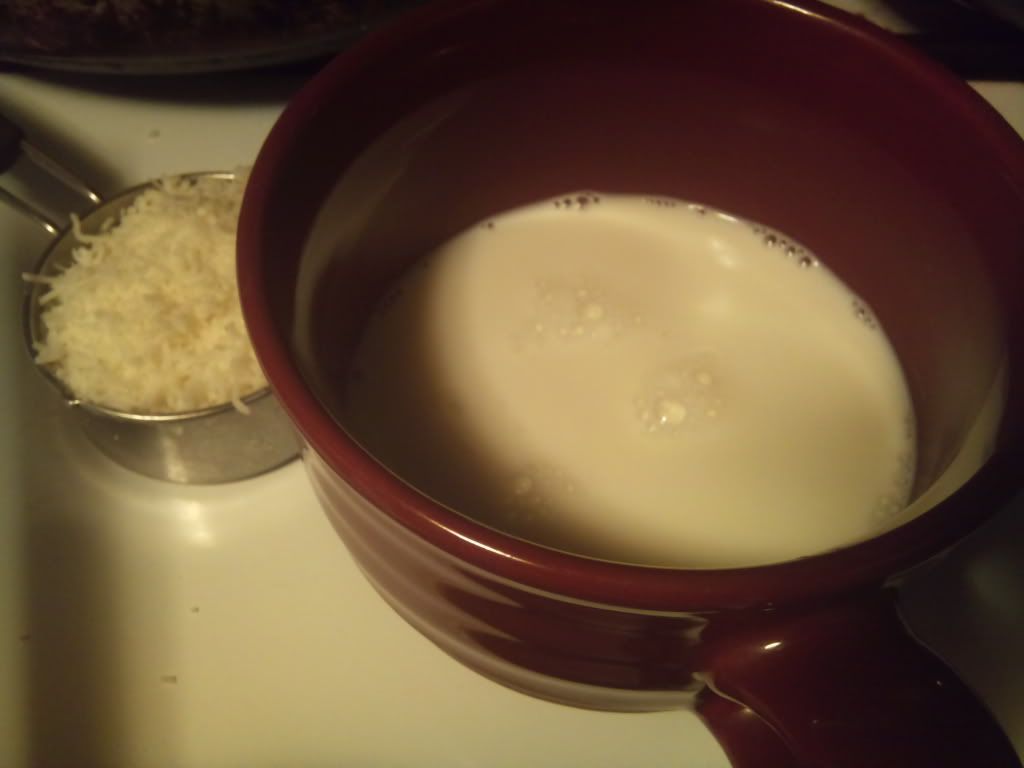 In a small saucepan, I melted 2 tablespoons of butter on medium low. As the butter was starting to melt, I added the minced garlic.
I'm not exactly sure how my picture ended up like this, but I was in a little bit of a hurry because I didn't want my butter to burn. Once it started bubbling it was time to add the milk and cornstarch. I stirred it with a whisk until it started to thicken and just started to bubble. Then I poured in the cheese and continued to stir it with the whisk for about 1 minute. I actually count 1-mississippi, 2-mississippi... Sometimes I get interrupted, but this isn't serious enough to where I would need to actually set a timer. Once the cheese was melted, I cooked it for just a little bit longer and then turned off the burner.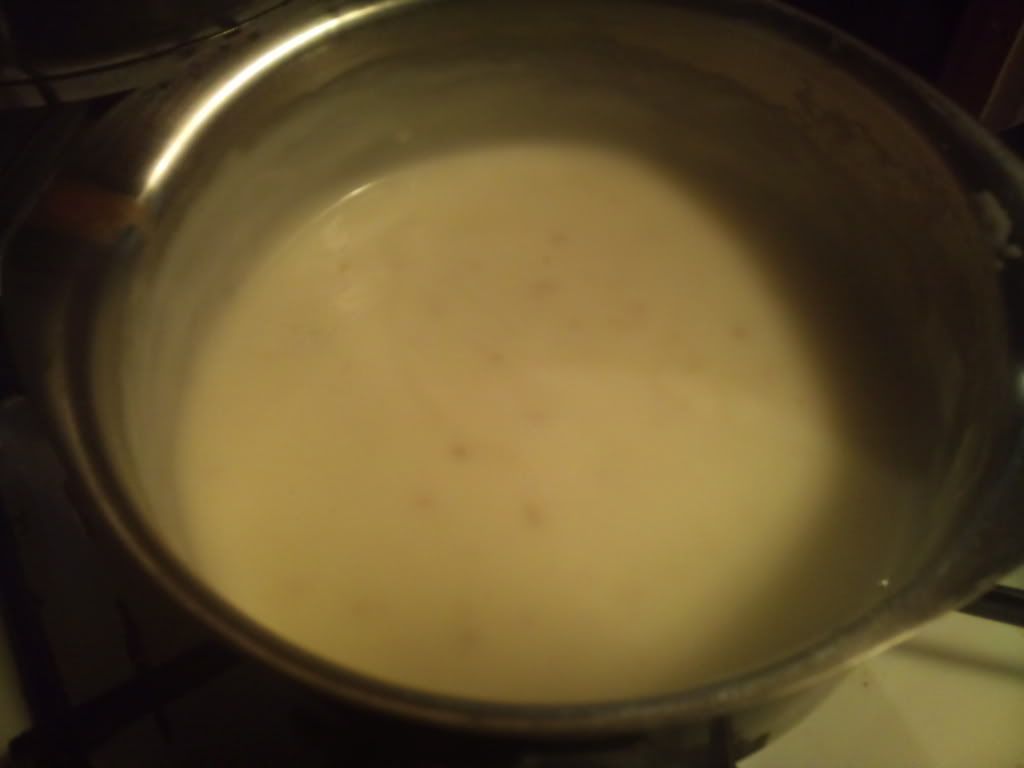 Then I added 4 pinches of salt and 2 pinches of pepper. If you've never measured a pinch, just pour a little bit in your hand and get a good pinch of it. By the way, my oldest daughter pronounces this p-EE-nch. She discovered that she learned it from me.
After about 30 minutes I pulled the chicken out of the oven and made a small cut down into the chicken in the middle to make sure it was done. The cheese sauce was going to cover where I cut into it so, it didn't ruin the presentation. It looked just a little pink to me so I put it back in for another 5 minutes. Once it was done, I put a piece of chicken on a plate and spooned the cheese sauce over the top of it.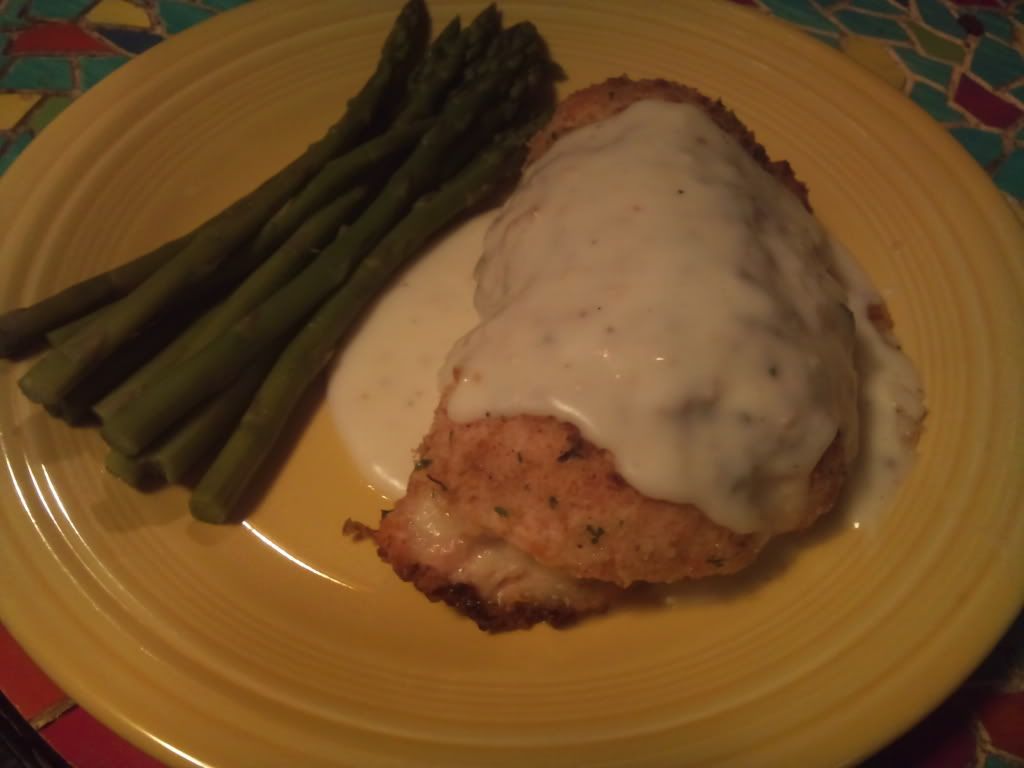 After I had taken a few bites I told my husband I needed to take a picture of the middle to post on here. He said, "mine looks just like yours" and I said, "give me your plate and I'll take a picture of yours instead ." Needless to say, his plate is pictured above and that was the last time I got my hands on it until it was empty.