Monday, March 28, 2011
My husband asked what I was cooking for supper tonight and when I told him we were having Deer Ham, he said, "well, you're not cooking anything then!" Earlier this week, a friend from work took a deer ham that I had in my freezer and had her husband smoke it for me. I've had it in my freezer for a while trying to figure out how to cook it. We were talking the other day and she told me that her husband made his own rub and when he smoked meat he would smoke a bunch for them and their friends and neighbors. Fortunate for me he was ready to smoke some more! She brought it back yesterday. It smelled so good! This evening I pulled it out of the fridge, put it in a baking dish and covered it with foil. It baked in the oven for about 30 minutes on 350 degrees. After I put the deer in the oven I told my husband, "I am cooking, I'm making mashed potatoes, with real potatoes!"

I don't know if Yukon Gold potatoes are in season right now or what, but those are my potatoes of choice and Walmart finally got them back in the store. If I didn't have those I would have used red potatoes. Russet potatoes are not that good to use for mashed potatoes. They're better if you use them for frying or baking.


After I rinsed and scrubbed the skins of the potatoes, I cut them up into chunks. Most of them I cut in half and then cut the halves in half and then I cut those halves in thirds.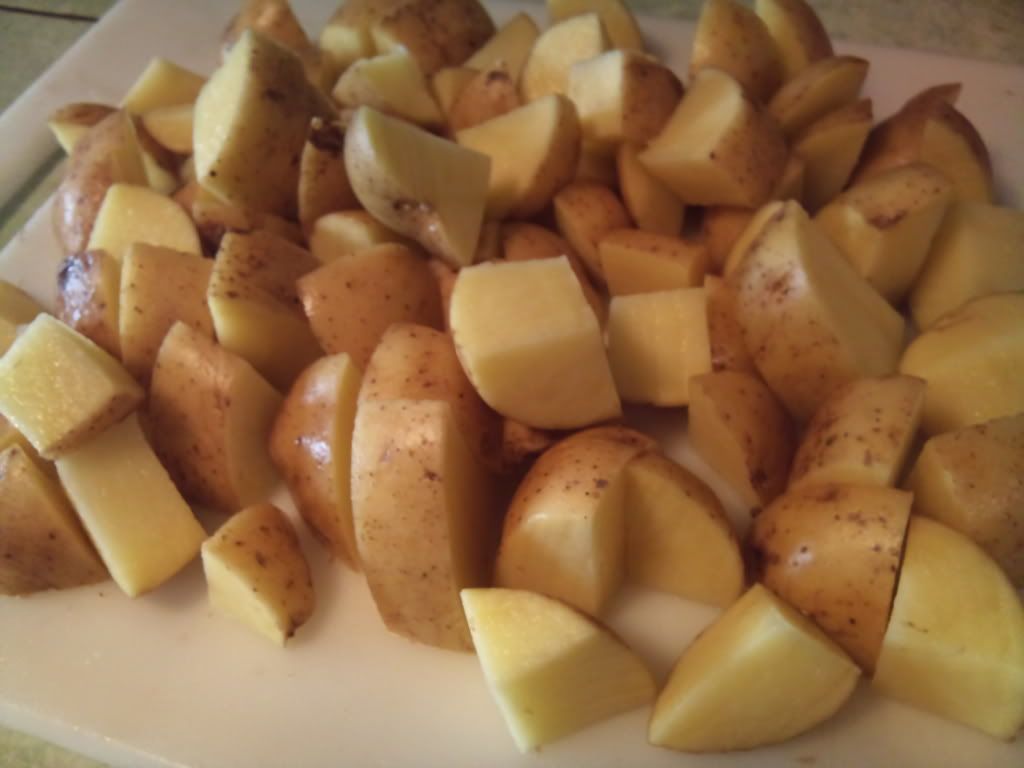 I covered them with water and added about a half a teaspoon of salt and put them on the stove to boil.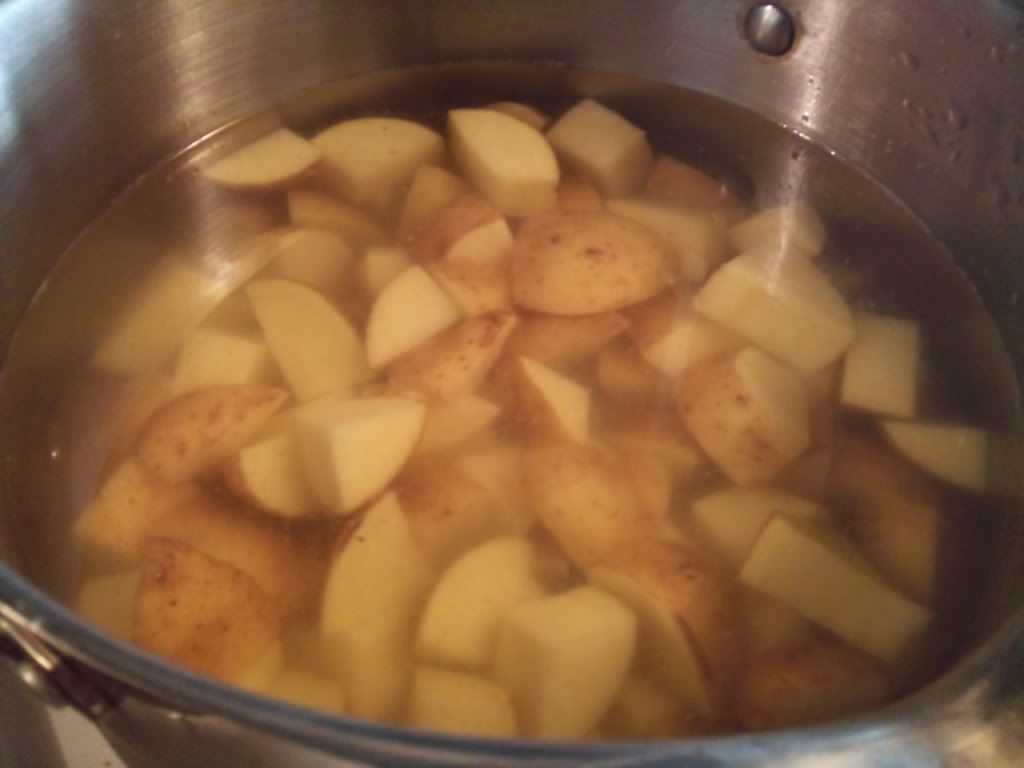 I should have timed how long it took, but I figure it was about 10 minutes or so. When I was able to easily stick a fork all the way through the potato I turned off the burner and drained them in a colander in the sink. I shook the colander to make sure all the water was drained and poured the potatoes back into the pan.
Over the years I've made several batches of real mashed potatoes. If I have evaporated milk on hand, that's what I use. If not, I use regular milk. The key is to heat the milk up before you add it. I put about a cup of cold milk in the microwave for about 45 seconds before adding it to the pan of potatoes.
Then I added about half a stick of butter. I never use margarine. I know it's silly, but ever since my daughter came home from school and said margarine was one molecule away from being plastic I quit buying it. Honestly, nothing can beat the taste of real butter. If you've been using margarine to make cookies, try using real butter and I can almost guarantee you won't use margarine in your cookies again.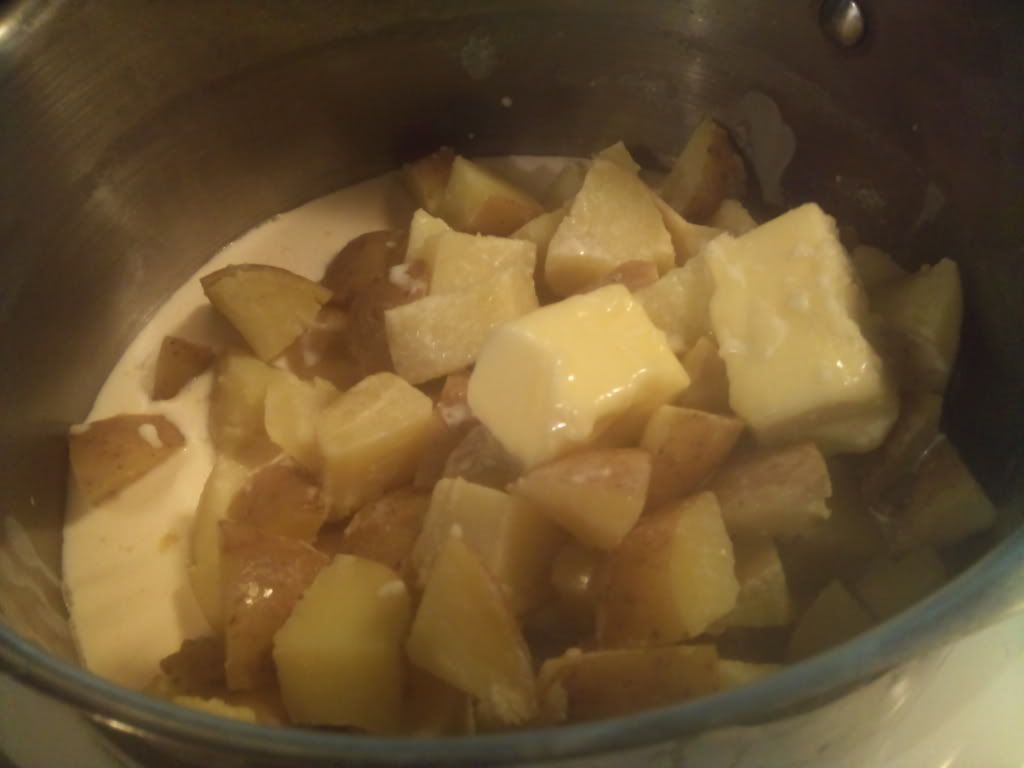 Next I took a potato masher and started mashing the potatoes. I added about 1 teaspoon of salt and a few shakes of pepper and finished mashing the potatoes.
They must have been really good. Usually my husband asks for seconds of the main dish, but this time he specifically asked for more potatoes too! And Debbi, if you're reading this, let your husband know he did a wonderful job. My husband and I thank you both!
My plan for the rest of the week is to make:
Mexican Pasta
Sweet and Sour Pork
Chicken Cordon Bleu
Black Forest Cake
So be sure to check back later for the recipes for these!