Thursday, April 7, 2011
I was going to make this last week, but for one reason or another I didn't get to. This is good stuff and I decided today was the day I was going to make it. Something I don't always bring up is how economical my dishes are. This one is a little more expensive because of the Velveeta, but the whole meal is still right at $6.50 and it will generously feed a family of 4 or 5.

1/2 Velveeta - $2.50
Diced Tomato & Green Chilies (Rotel) - $1.00
16 oz. Pasta - $1.00
Seasoned Ground Turkey - $1.25
Corn - $0.75

And here's how easy it is to make:

First, put a pot of water on to boil. Add a little bit of salt and turn the burner on high.


I used taco seasoned ground turkey, but if you use ground beef or turkey, just add a package of taco seasoning mix in with it while it's browning. Brown the meat and drain it in a colander. My wooden spoon with the flat end on it is perfect for breaking up the meat while it's browning. I got a package of wooden spoons at Walmart for $0.97 and this one was in it.
While the meat was draining in the colander, I opened up the Velveeta. I love Velveeta cheese!
You only need half of it, so cut it in half and wrap the rest up to use for another dish. Also, Velveeta is something else I don't skimp on. I've tried the generic brands and they're oily and have a different taste. Cut the half of the Velveeta you're going to use into chunks.
Add the Velveeta, diced tomatoes and green chilies (Rotel) and meat to the skillet. I do use the store brand of Rotel, also known as diced tomatoes and green chilies. I've found absolutely no difference in taste or quality and it's usually at least $0.25 less than the Rotel brand.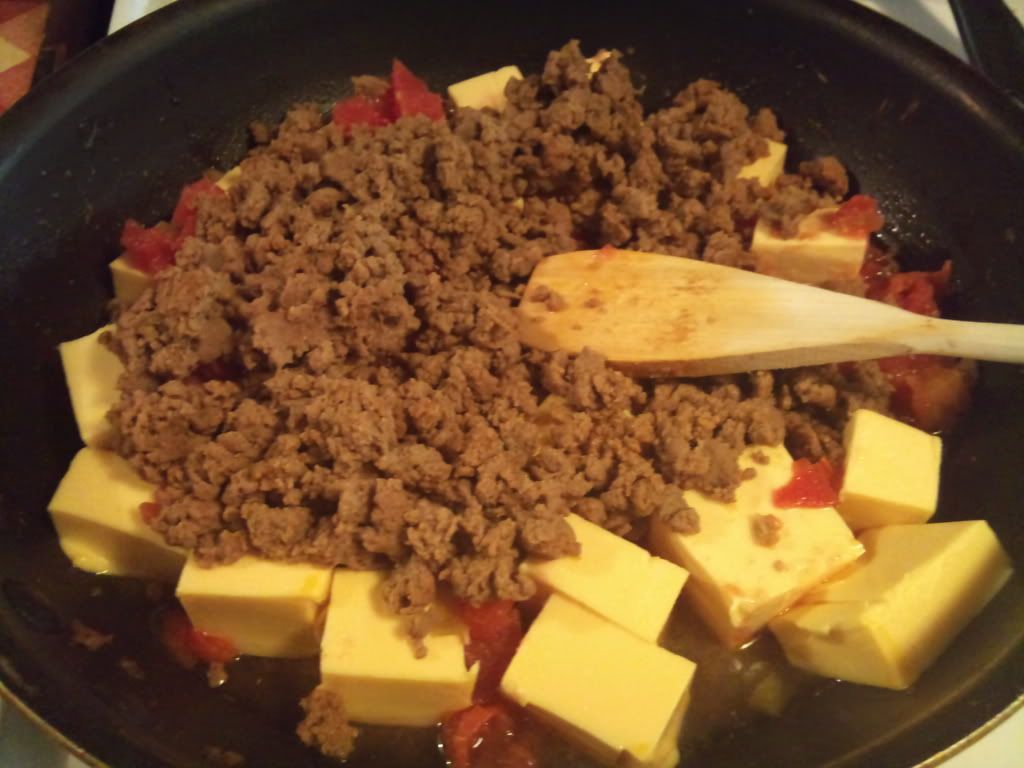 Turn the burner on medium and stir until the Velveeta is melting and just starting to bubble. Turn off the burner. Don't worry if the Velveeta hasn't completely melted, it will. I think it was at this point that the water for the pasta had started boiling. I added a little bit of oil to the water and then added the pasta to the boiling water. I used Penne pasta, but you can use Rigatoni, Macaroni or even Spaghetti noodles.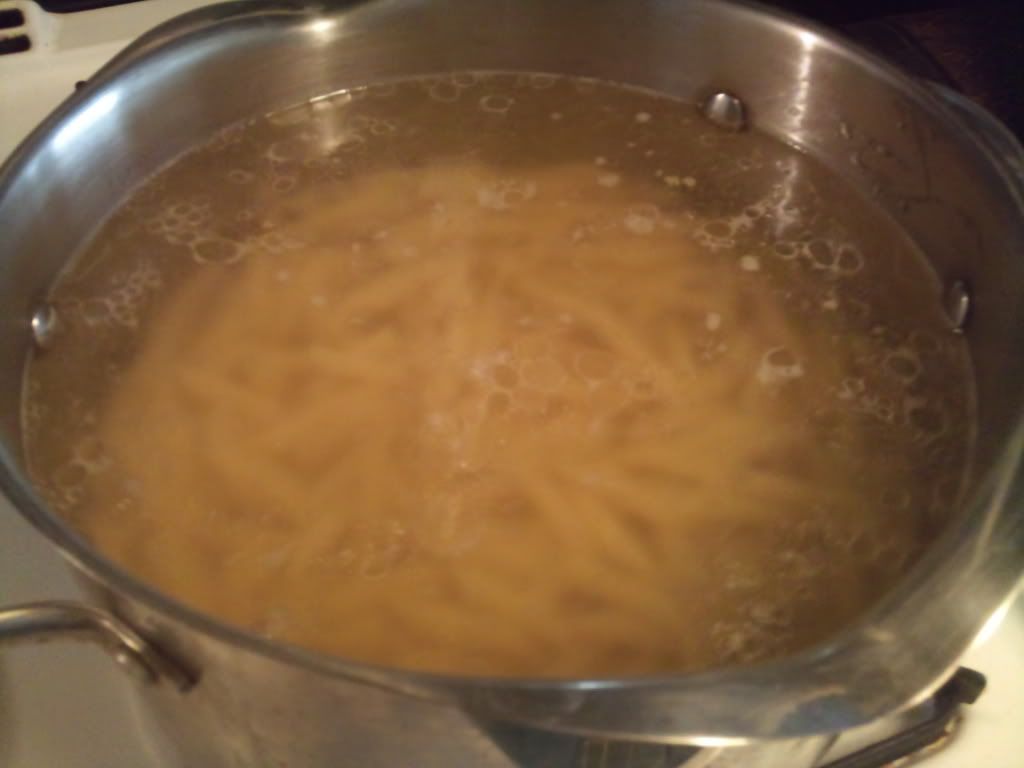 I never time how long my pasta boils. When I think it's done, I scoop out a noodle, run some cold water over it and taste it.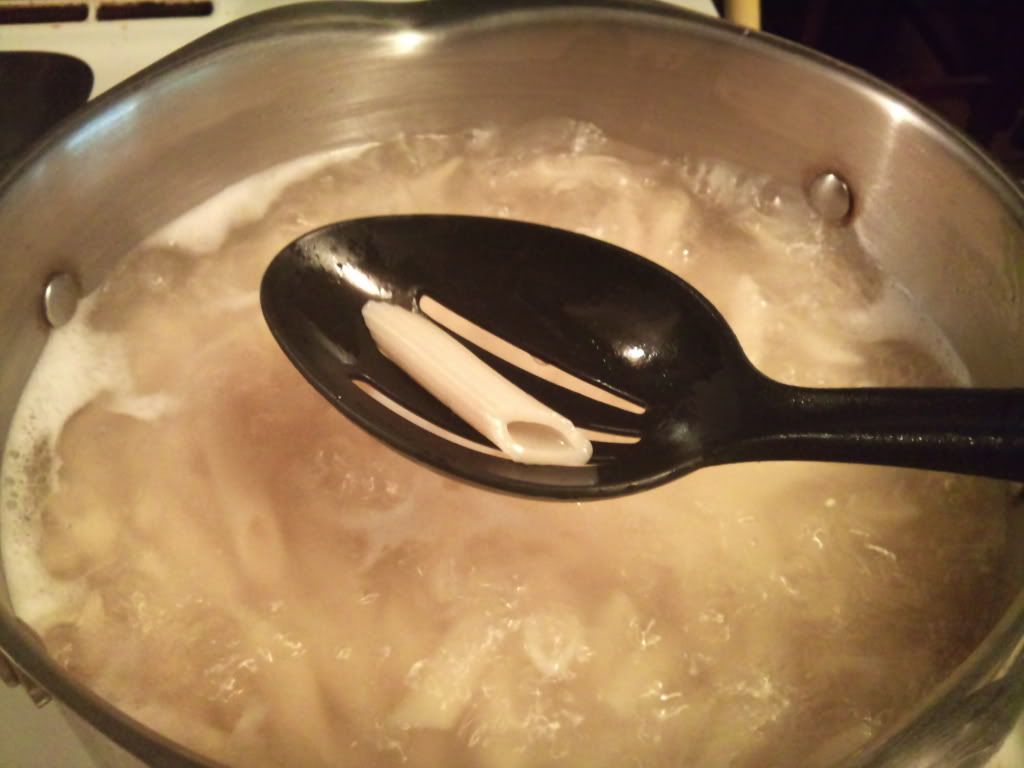 Drain the pasta in a colander.
Put the pasta back in the pan and add the cheesy meat sauce to it and stir it up.
Put it on a plate and eat!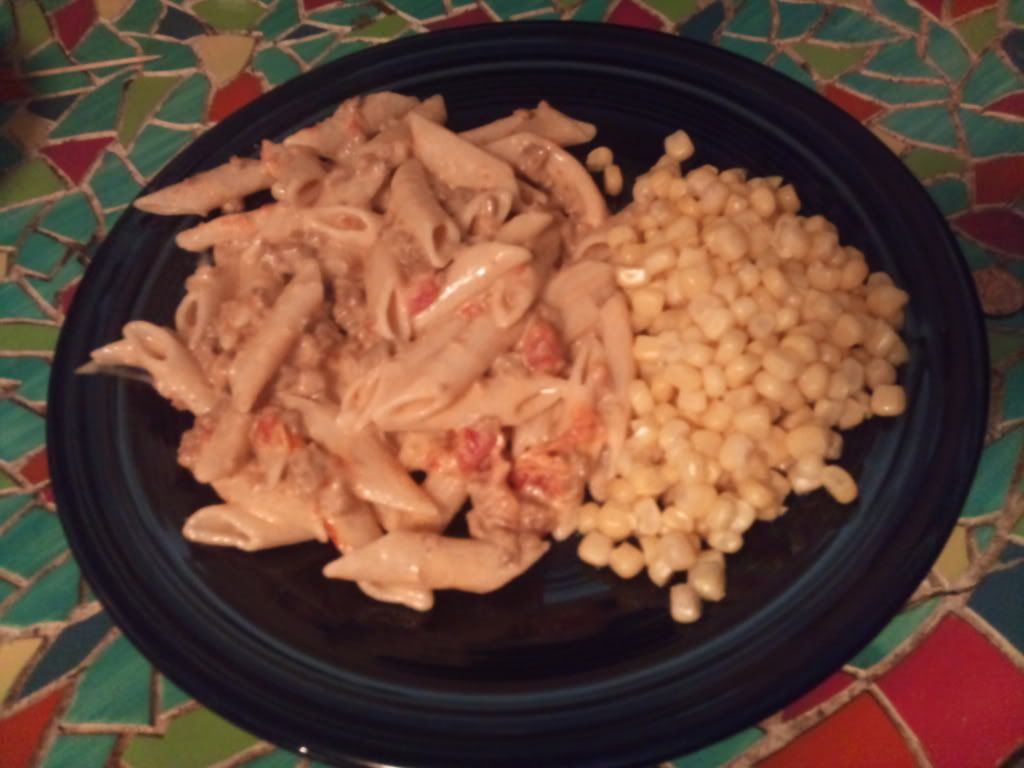 I was going to steam some asparagus to go with it, but since the bunch I got tasted funny I heated up a can of corn to go with it. This dish is definitely hubby approved! My husband asked for seconds and would have gotten thirds if he had room. Honestly, I think he's saving room for the Key Lime Icebox Pie. Check back soon for that post!