Sunday, March 27, 2011
Friday night, according to the menu I planned, I was making Dirty Rice. My husband's stomach made other plans and it's not like he had to twist my arm to go along with getting a pizza instead! So, we threw a pizza in the oven (the take and bake kind from Walmart deli) and watched a movie. I had things I needed to do, like make the potato salad for the cookout, but it was nice to just chill out and spend time with him.

Veronica, from My Catholic Kitchen suggested that I check out some of the casserole recipes on Southernplate.com and I am so glad she did. I just recently found Veronica's blog through Foodblogs.com where I saw her recipe for Southern Blueberry Tea, which I'm planning on trying soon. She's won several cooking contests so you know her recipes are going to be good!

Anyway, I got off work yesterday at noon and decided to go ahead and make Dirty Rice, as well as the Potato Salad to take to the cookout. Oh my soul, it was some kinda good! My, oh my, I had my doubts that I was going to like this, but oh my. I could sit here all day and tell you about how good it was, but I know you want to see exactly what it is I'm raving about.

Like I said, I got the recipe from Southernplate.com and you can get there by clicking here. She said to start out by dicing up all your veggies and putting them in the skillet. When I went grocery shopping I forgot to get celery so I thought well, I'll just leave that out. Then I read on down to what was next and discovered that the "trinity" of this dish was bell pepper, onion AND celery! So, I opened the vegetable drawer in the fridge because I knew there was some celery in there that should have been thrown out a few weeks ago. Needless to say it was pretty wilted, but it was going to wilt anyway when you cook it, right? I went ahead and pulled the outer stalks off that were pretty well gone and the middle didn't look quite so bad except for the tops which were going to get cut off and thrown away. Just to make sure it was still good, I chopped off a piece and ate it. It still had crunch to it!

Knowing that I wasn't going to have to go buy celery, I started making the rice. If you need help with cooking rice, see my post for Turkey Enchiladas. After I put the water, rice and butter in the pan, I added a couple of chicken bouillon cubes to it for a little extra flavor.

While the rice was cooking, I got to work chopping up the onion, bell pepper and celery. The recipe said to use 1/2 a bell pepper, but my bell pepper was kind of small so I just used the whole thing.


I put my "trinity of veggies" and turkey sausage in a skillet. Then I added the minced garlic and dried parsley.
Once the sausage was browned, I turned the burner down on low and put a lid on the skillet. I let it all cook until my onions were clear and I could easily cut through a piece of bell pepper with my spoon.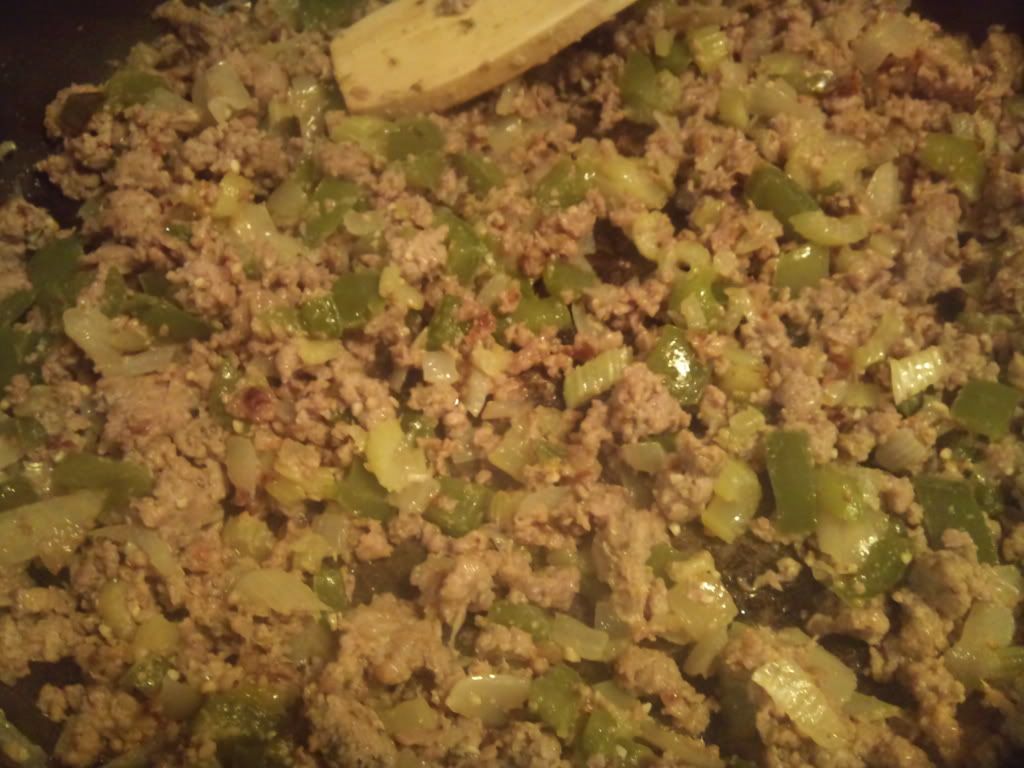 Then it was time to add the creole seasoning. The instructions say to add two and a half tablespoons, but you might want to cut down a little for starters. Well, I scooped up my first tablespoon thinking
I ain't scared
. Well, then I scooped up another tablespoon and thought
well, maybe I ought to pour just half of that in there and taste it
. By this time the rice was done and I went ahead and stirred that in and tasted it. It was so good I forgot to take a picture! And yes, I did the right thing by skipping that last tablespoon of creole seasoning. A tablespoon and a half was perfect for me. It had just the right amount of bite to it.
Fortunately, I did get a picture before it was all gone!
I'm thinking about making this again and stuffing it in some bell peppers and melting some cheese on top. Now wouldn't that look gourmet and nobody would know how little effort it took to make it!