Friday, March 25, 2011
Posted by Chris Beason | Friday, March 25, 2011 | Category:
ground turkey
|
When I planned my menu this week, I got my work schedule a little confused so we had Waffle House two days in a row. I was so ready for a home cooked meal and I'm really happy I finally got to try Mandy's Man's Meat Pie. I've been looking forward to making this dish all week!

Mandy is the author of Learn, Laugh, Cook which is not only a blog, it's also a cook book. One of these days when I decide to write my book, I'm hoping she'll give me some advice! She describes herself as a wacky mom and wife who prior to 2009, wasn't much of a cook. I found her blog through Facebook where she also has a fan page. If you have a Facebook account, you don't have to send a friend request to be a fan, just click on the Facebook badge in the sidebar and you'll be able to stay updated on when new posts are added.

Mandy's recipe says to use a deep dish, whole wheat pie crust if you can find one or make your own. I've never seen one in the store, but I know that you can use 1/2 flour and 1/2 whole wheat flour in place of how much flour a recipe calls for. So I decided I would make an easy whole wheat crust to use for this dish. Besides, it doesn't need a top crust and that's usually where I run into trouble. I went ahead and started the pie filling first because I knew it would have to simmer for about 15 minutes. That would be plenty of time to make my crust.

In a skillet I melted about 3 tablespoons of butter. Once it melted, I turned the burner off until I had chopped up the onion and put about half of it in the skillet. An easy way to chop up an onion if you don't have a food processor or something like it or you just like using a knife like I do, is to cut the ends of your onion and remove the outer skin. Then cut the onion not quite all the way down to the bottom like this.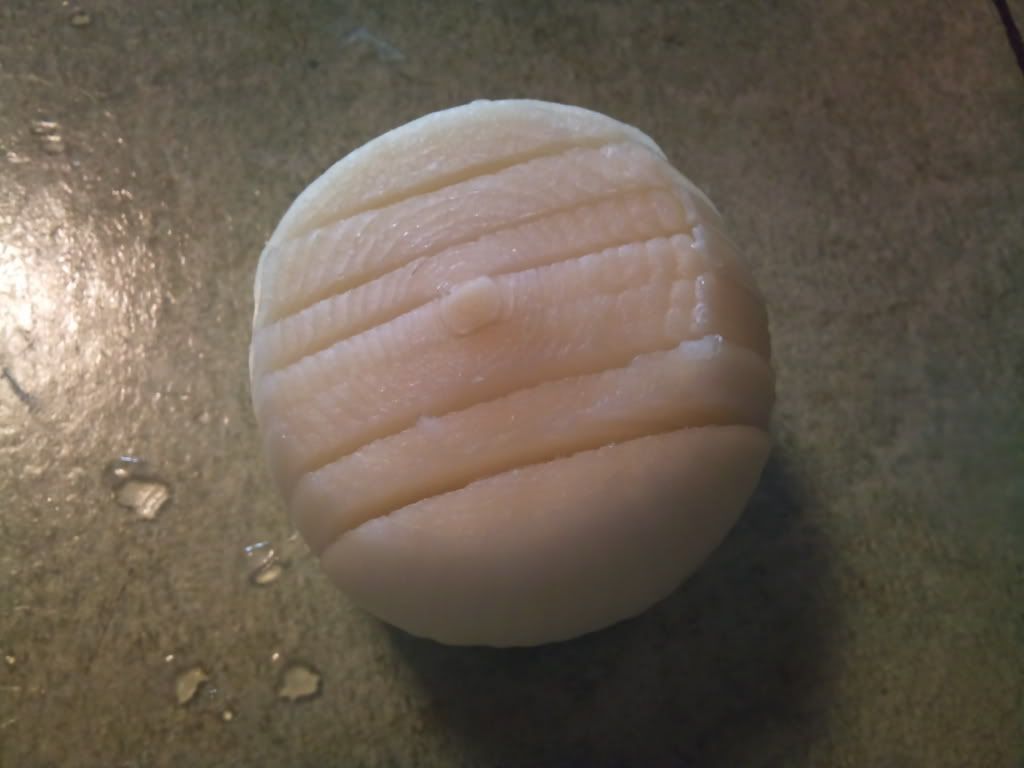 Then cut the other way like this.
When you get to the last cut, go ahead and cut all the way through so you can lay your onion down flat on it's side.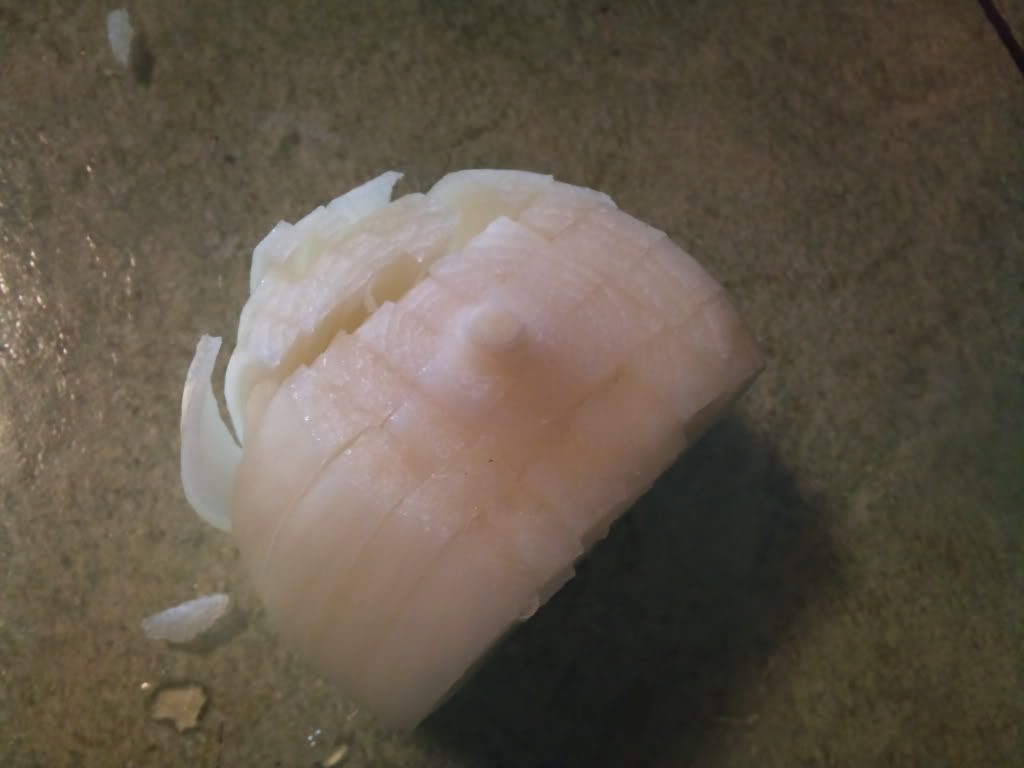 Now as you cut your onion in slices, it will be diced.
Once the onion was chopped, I put half of it in the skillet and half of it in a Ziplock bag to use later. Then I chopped up a bell pepper and added it to the skillet. If you need help with cutting up a bell pepper, see my post for
Chicken Fajitas
. I love the smell of onions and bell pepper cooking in butter!
After letting the onions and bell pepper cook for a few minutes, I added the ground turkey.
Instead of adding the spices, I used Italian seasoned ground turkey. Once it was browned, I drained it and put it back in the skillet. I mixed up the cornstarch and water and added it with the can of tomatoes. I used Italian seasoned fire roasted diced tomatoes.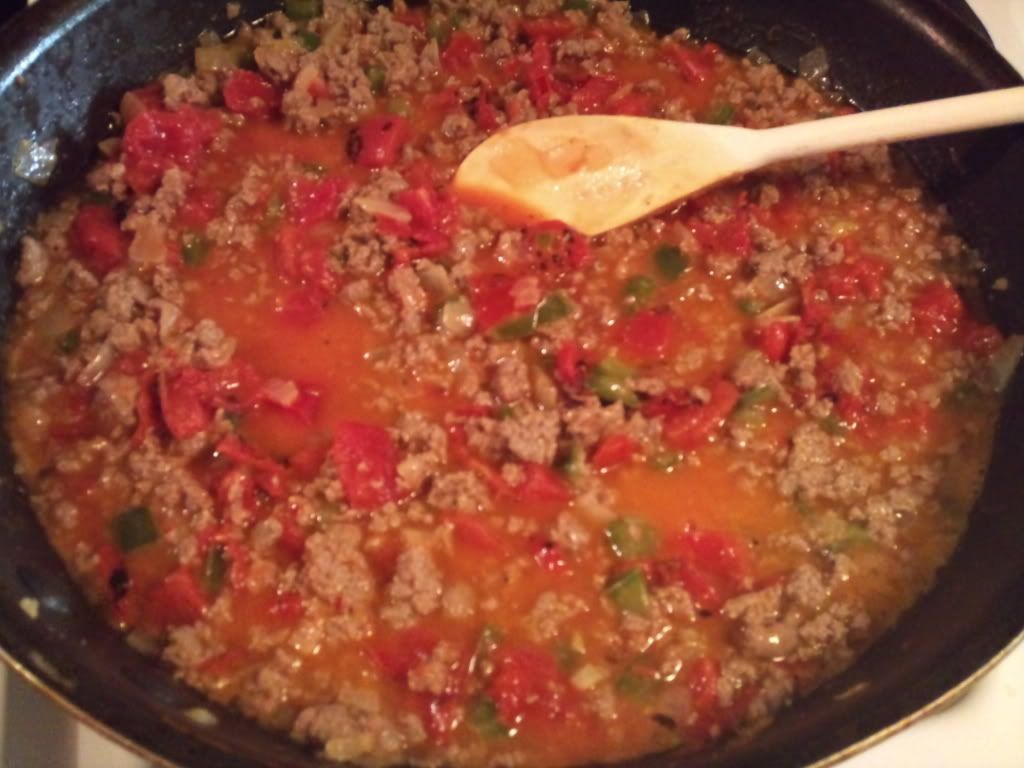 While that was simmering I went to work on my whole wheat pie crust.
3/4 cup All Purpose Flour
3/4 cup Whole Wheat Flour
1/2 cup Oil
1/4 cup Ice Cold Water
1/2 teaspoon Salt
I mixed the flour together in a bowl and made a well for the oil and water.
A lady that tried to teach me to make pie crusts once. She said the most important thing is to make sure your water is ice cold. I filled a small bowl with water and added a few ice cubes.
I dipped in my measuring cup, careful not to scoop up an ice cube, and then poured the water into the well I made in the flour. Then I added the oil and the salt.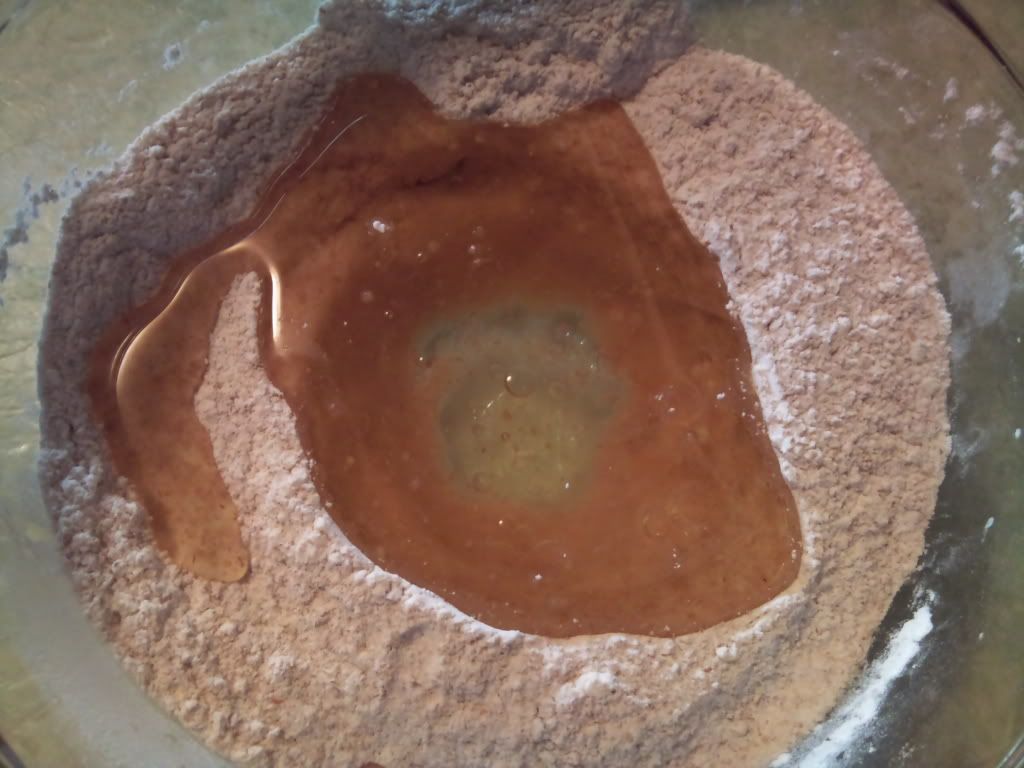 Once everything was moistened I worked it into a ball and put it in my baking pan. Oh yeah, I don't have a deep dish pie pan, so I just used a square baking dish. I put about a little less than 1 tablespoon of oil in the dish and then put the ball of dough in the middle.
Then I just pressed it down into the bottom of the dish and up the sides.
Easy huh? Once that was finished, the meat was done simmering and it was time to put it all together. That part was easy too. I put in cheese, meat, cheese, meat, topped it with cheese and came out with this.
I was a little worried about this fitting in the dish when I first started, but it fit perfect. I probably should have let it cool for a few minutes before dishing it out, but we were hungry and didn't want to wait for pretty. My husband said it had more tomatoes in it than what he likes, but he still really liked it. The tomato pieces were a little bigger than what I normally use so next time I'll cut them smaller or get petite diced. The crust was crispy and brown, but it was just a little bitter. I probably should have added some sugar to it. He must have really liked it in spite of the tomatoes and the bitter crust because he had a clean plate when he asked for seconds. All in all, it was delish!