Saturday, July 2, 2011
This past Saturday was a busy day. Not only did I have a Strawberry Jam Canning Party (which I promise I'll post about soon!), we also had a baby shower for Amanda. Baby Lainey Jay is going to be born sometime between now and the end of August. "Auntie Kiss" (that's me) made her cake.

Amanda found a version of the cake online and I just customized it to what we liked. So, while I'd like to say this was my original idea, it wasn't. The one she saw was on Creative Baby Shower Ideas.

First, I made a 2 layer white cake. You can use any flavor of cake you like, just make sure you have two layers.

I started to use frosting in between the layers, but I wanted it to make it just a little more special so I mixed up a box of instant chocolate pudding using 1 1/2 cups of milk. Don't spread it quite to the edges of the cake and when you put the top layer on, press it down gently so you have a thick layer of pudding in between the layers.


Next, I put a thin layer of frosting around the edge of the cake and a thick layer of frosting on the top making sure I spread it all the way to the edge so that the cookies will have something to hold on to.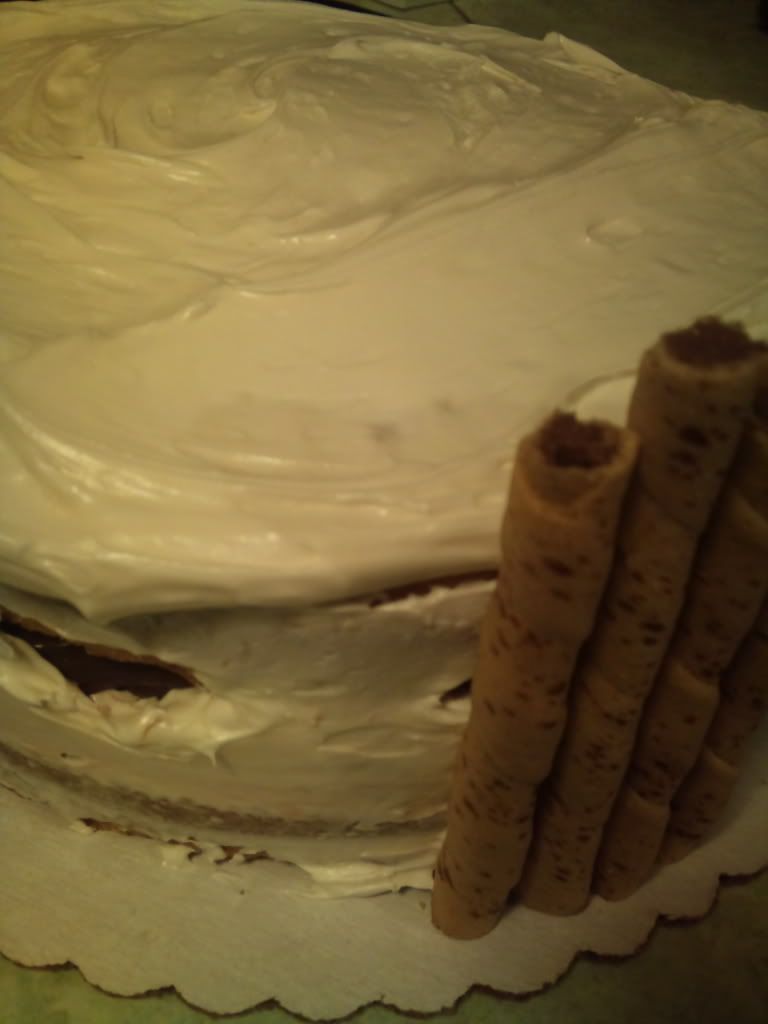 I used Piourette Pepperidge Farm Cookies to go around the edge. I cut them down to where they were just a little taller than the cake. Of course some of them were broken, but I just stacked the smaller pieces together to make a whole piece. Does that make sense?
To make the "water" on top of the cake, I mixed about 1/4 teaspoon of Wilton's blue frosting color with about a teaspoon of water (enough to make a very thin gel type consistency). Using a small paint brush, I painted in the water. We topped it with a rubber ducky we found in the baby section for $1.00.
The bakery at Walmart was nice enough to give us a container for the cake. I've needed a cake box before and was able to buy one from the bakery at the neighborhood grocery store for about 50 cents. I didn't know they sold them until I asked!
We tied a pink ribbon around the cake and that was well, like icing on the cake! Perfect for a baby girl's baby shower. The cake turned out really pretty and tasted so good!