Wednesday, June 29, 2011
I knew I wanted to make barbecue chicken for supper. This weekend we went to our friends house and ate barbecue chicken cooked on the grill and that got me to thinking about a recipe I had. Mine was baked in the oven and had orange juice in the barbecue sauce. Now that I'm sitting here thinking about it, it's been a really, really long time since I've made it, which could explain why I misplaced the recipe.

After searching the web for a half hour, I couldn't find a recipe that was similar to the one I had. So, I came up with my own! During my search I ran across "how to brine chicken" and figured I would try it since I had the time. It's supposed to make it juicier and more flavorful and let me tell ya it definitely does! It's very easy. Actually, it's so easy, I can't believe I haven't done it before, but anytime I saw the word "brine" I just skipped right past it on to something else. Sheesh, what was I thinking!

Okay, to brine your chicken...

Put 4 cups of water, 3 tablespoons of salt and 2 tablespoons of sugar in a pan and stir until the salt and sugar dissolves. This takes a few minutes, just keep stirring and it will dissolve. Add your chicken to the pan, put a lid on it and put it in the fridge for an hour.


Once the hour is up and you're ready to cook the chicken, rinse the chicken off in cold water and then proceed with your recipe. That's it! Can you believe it?
If you don't have an hour before hand to do this, take your chicken out of the freezer the night before and put it in the water, salt, sugar. Put the lid on and put it in the refrigerator. It has to thaw anyway right? So why not brine it!
Now, for the best, moistest, juiciest, sauciest, barbecue chicken ever...
In a bowl, mix
2 tablespoons Worcestershire Sauce
1/2 cup Orange Juice
1/2 cup Honey
1/2 bottle Barbecue Sauce
1 tablespoon Corn Starch
until the corn starch dissolves and set to the side.
Next you'll need:
2 or 3 boneless, skinless Chicken Breasts
Seasoned Salt (optional)
about 1 cup of flour
about 2 heaping tablespoons of shortening
If you've brined your chicken like I did, rinse it off in cold water and then cut it into strips.
You can sprinkle some seasoned salt on the chicken if you want. I used Citrus Grill seasoning, but honestly, I'll probably just skip it next time. It added flavor to it, but it wasn't exactly what I was wanting. Don't get me wrong, it was good, but it had a flavor I couldn't put my finger on that I could have done without. If you want, try it both ways and see what you think. Sprinkle seasoning on some and not on others.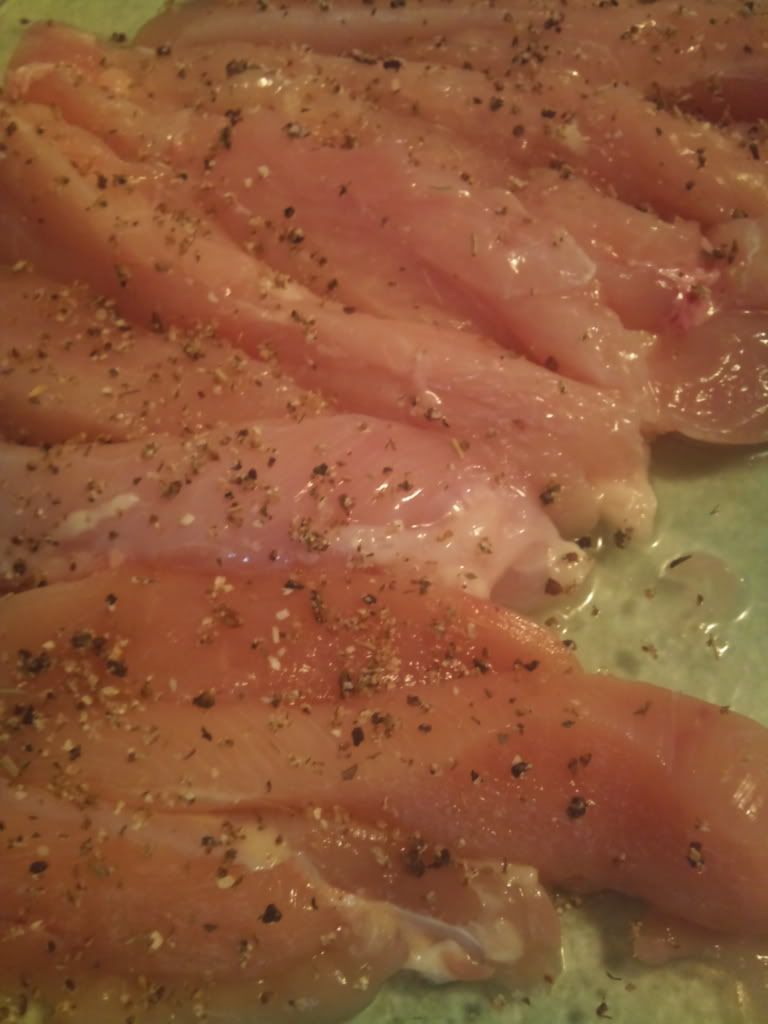 Put about 1 cup of flour onto a plate. No fancy measuring or anything, just scoop it up and pour it on there. Then coat your chicken strips with the flour.
While you're coating the chicken with flour, you might want to go ahead and put a couple of scoops of shortening in a skillet and turn the burner on medium high heat. I just LOVE the new skillet my mom got me! It's perfect for this. Oh, and turn your oven on 400 degrees. I know it's scorching outside and the last thing you want to do is turn on the oven, but trust me, we're only going to bake this chicken for 20 minutes. It'll be worth it, I promise!
Once the shortening is melted, add your flour coated chicken to the skillet.
Fry it just until it is a light golden brown and then put the chicken in a baking dish.
Now, pour the sauce over the chicken and put it in the oven for 20 minutes.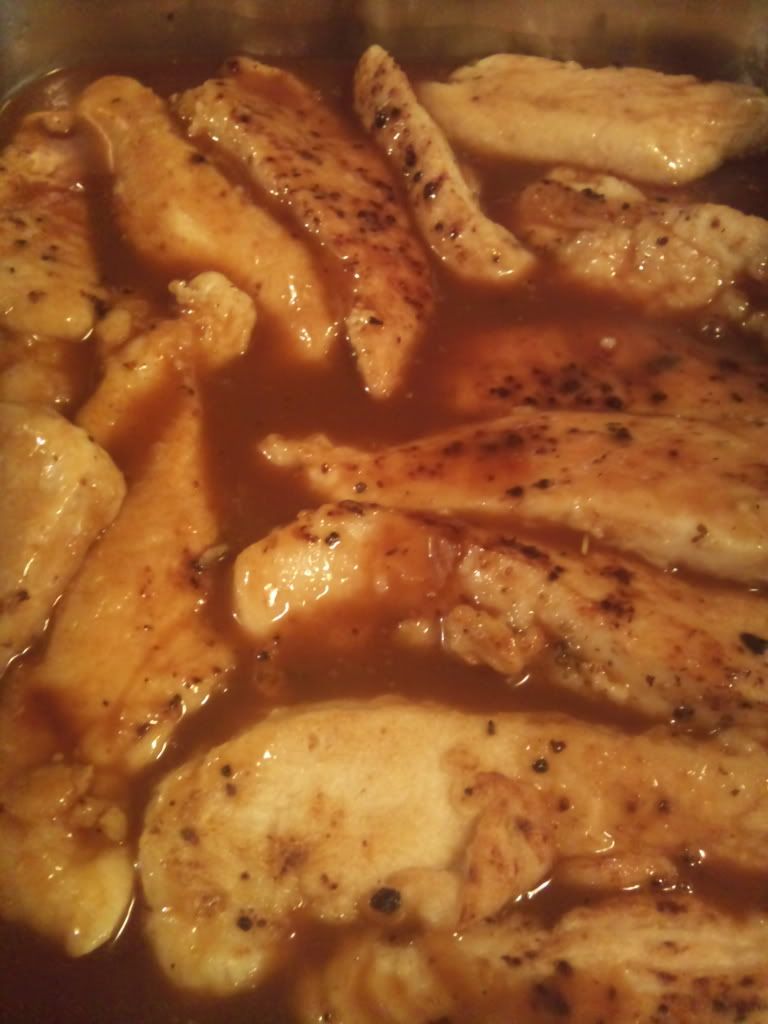 Once twenty minutes is up turn off the oven before you melt and try to resist the urge to dig in! Not only does it smell so wonderfully good, the sight of the bubbling thick sauce alone will make you drool. Ready for the plate?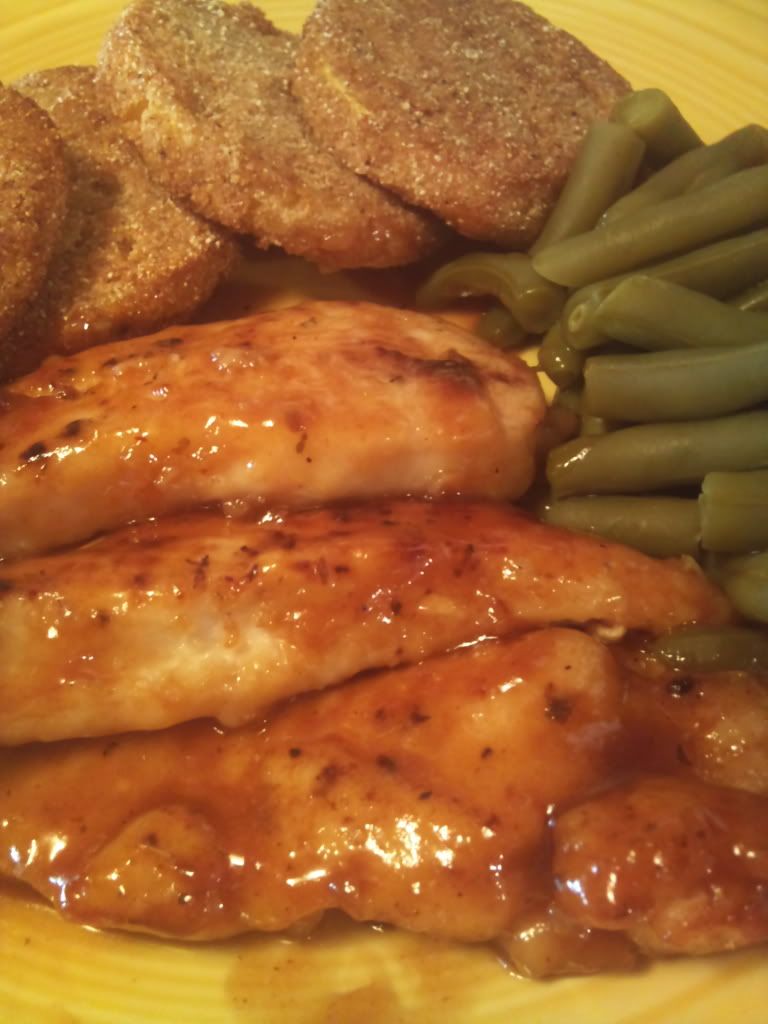 Hubby said if he could have eaten it he would've had thirds and possibly fourths. This is one of the highest hubby helping ratings yet!