Friday, May 27, 2011
Have you ever had fried pies? If you live in the south, somebody probably made them for you. My Grandma Burkett and my friend Dana's mom and granny made them and I'm sure there were others, but those are the ones I remember. Last week I was thinking about fried pies and then yesterday Christy at Southernplate.com made some and I couldn't stand it any longer. I had to try to make them.

I am not a pie maker, but my hope is that one of these days I'll be a fairly decent one. After making these, I guess you could say I'm a pretty fair to middlin' fried pie maker. Although, they must've been pretty good because I took them to my hubby's work and to mine to "share" and ended up getting asked to make 9 dozen of them so I'm walking in high cotton!

So I went in the kitchen and opened the pantry and the Nutella jar was staring at me. I grabbed it and thought this might be really good in a fried pie. I'll make little fried pie bites. Well, from there it was on.

First, I followed the instructions for the crust for Lela's Fried Peach pies. I used my fancy pastry blender (Christy uses a long tined fork) and cut the shortening into the flour and salt until it looked crumbly.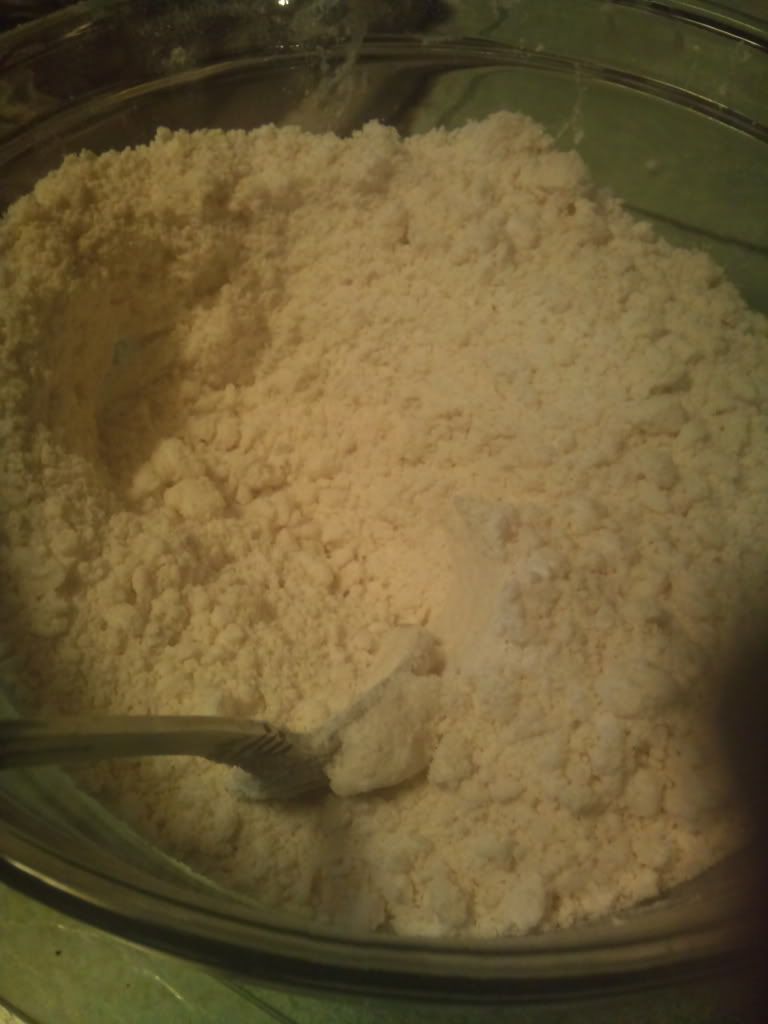 Christy, I think I see peas!
Then I stirred in enough milk to when I stirred the dough it pulled away from the bowl.
I set the dough on a little bit of flour on the counter and split it up into balls.
Each ball got rolled out into a little circle.
Using a tablespoon and a teaspoon, I scooped out a tablespoon of Nutella and scrapped it off with the teaspoon onto the crust. I know you're thinking the title says "Cheesecake Fried Pies" and we're getting to that I promise!
I put water in a bowl so I could wet my fingertips and dotted a little water around the edge of the crust.
The crust got folded over the filling and pressed around the edges to seal. I used a fork to make a pretty little design around the edges and help seal it together a little better.
Then I put it in hot oil and fried it on both sides until it was golden brown and put them on a draining rack over a cookie sheet to cool. I just realized that once I started frying them I forgot to take pictures so I had to stage this last picture with the leftovers. Well, minus one that I ate for breakfast this morning (yum!)
But what about the cheesecake you ask?
Well, I ran out of Nutella and I still had plenty of crust left. I looked in the pantry and saw a box of Cheesecake pudding. Hmmmmm..... The side of the package said to use it for pie filling, reduce the milk. So I figured if I reduced the milk even more it might just work. Well, guess what. It did!
For the filling you can use any flavor of instant pudding and add 1 cup of milk. Stir it for about 2 minutes with a whisk and you've got fried pie filling!
And of course, there are no pictures of pudding being stirred and plopped onto the crust, but it's only because I was in too much of a hurry to eat one. They were definitely the better of the two! I know, I know, you'd think the chocolate would be better. Honestly, it was just a little overboard. Next time I'll use chocolate pudding and it'll be just right :) Now I'm going to try these with peaches!