Tuesday, October 25, 2011
Posted by Chris Beason | Tuesday, October 25, 2011 | Category: |
This post brought to you by Sunkist S'alternative. All opinions are 100% mine.
Sunkist wants to know, do you really know as much as you think you do about how much salt is in your food? I took the Sunkist Sodium Quiz and I didn't do too bad.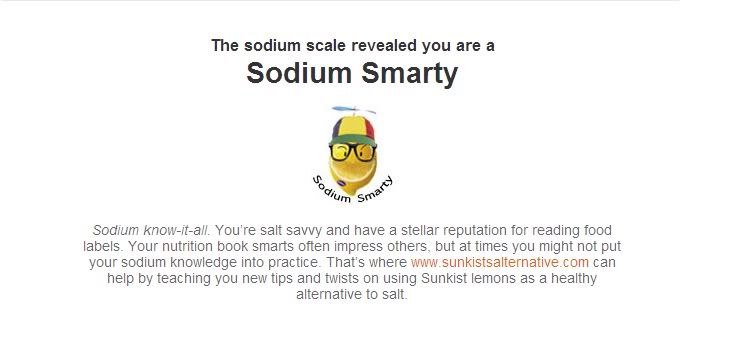 I guess I know more than I thought I did about salt in my food! So now it's your turn. The quiz is just a few questions about your choice of food based on different situations. It only takes a minute, so take it and let me know your results!
Did you know lemons are sodium-free? Sunkist S'alternative uses lemons instead of salt to add flavor to your food, as well as potassium, essentially making it healthier for you and your family. 
Here's a recipe you can try: 
Sunkist® Lemon Seafood Paella -
Ingredients: (Makes 8 servings)
*1- 32 oz can low sodium vegetable broth
*1 cup dry white wine
*1 teaspoon saffron threads
*1lb. of firm, fresh pieces of whitefish such as tilapia, bass, halibut and swordfish, cut into 16-21 pieces
*1lb. or 16-21 mussels, cleaned and de-bearded
*1lb. or 16-21 medium sized clams, rinsed
*cup chopped fresh parsley
*3 Sunkist® lemons, zest and juice
*3 Tbsp. olive oil
*1 _ cups minced onion
*3 cloves garlic, minced
*teaspoon crushed red pepper
*3 cups uncooked short-grain rice such as Valencian, Arborio, or Calrose
*1 cup frozen green peas
*1- 8oz jar of sliced, roasted red peppers
Instructions:
• To prepare broth, combine all the ingredients in a saucepan. Bring to a simmer (do not boil). Keep warm over low heat.
• To prepare paella, heat 3 tablespoons olive oil in a large paella pan or large skillet over medium-high heat. Add fish pieces to pan and sauté 1 minute. Remove fish from pan, reserve and keep warm. Add onion to pan and sauté 5 minutes. Add the lemon zest, garlic and crushed red pepper and cook 5 minutes. Add rice and cook 1 minute longer, stirring constantly. Stir in broth, bring to a low boil and cook 10 minutes, stirring frequently.
• Stir in the peas and red pepper slices. Add mussels and clams to pan, nestling them into rice mixture. Cook 5 minutes or until shells open; discard any unopened shells. Stir in the reserved fish and chopped parsley and cook 5 minutes. Remove from the heat, stir in lemon juice and check for seasoning. Cover with a towel and let stand 10 minutes before stirring.
This actually sounds like something I would try, well, minus the mussels and clams. The rest of it sounds pretty good. I can definitely see how you could substitute lemons for salt.