Monday, September 26, 2011
I know it's been almost a month since I've posted anything. Trust me, I've been having withdrawls! We had a little incident with my blogging machine (our laptop) and well, it's out of commission now so it's a little more difficult to post. No worries though! Hubby is feeling the pain. He's been eating grilled turkey sandwiches and nothing much more exciting than that. So today he told me it won't be long before we replace the laptop and in exchange I'll make an effort to cook something interesting at least once a week and share it with you while he watches regular TV instead of Netflix. Now for the Double Peanut Butter Cookies and the giveaway you've all been patiently waiting for!

Gold Medal asked me to try their new White Whole Wheat Flour. They sent me several different recipes to choose from and since I'd already bought peanut butter specifically with the intention of making peanut butter cookies, I decided on this recipe.

1 cup packed brown sugar
1/2 cup creamy peanut butter
1/2 cup butter or margarine, softened
1 egg
1 1/4 cups Gold Medal® white whole wheat flour
3/4 teaspoon baking soda
1/2 teaspoon baking powder
1/4 teaspoon salt
1 cup peanut butter chips (6 oz.)
2 tablespoons granulated sugar

Heat oven to 375ºF. In large bowl, beat brown sugar, peanut butter, butter and egg with electric mixer on medium speed until creamy.


I took the butter straight out of the fridge and softened it in the microwave for about 20 seconds. I'm not the greatest with following recipes and realized that I'd left out the egg. Good thing I caught it before it was too late!
On low speed, beat in flour, baking soda, baking powder and salt.
I mixed the flour, baking soda, baking powder and salt in a small bowl before I added it to the mixing bowl.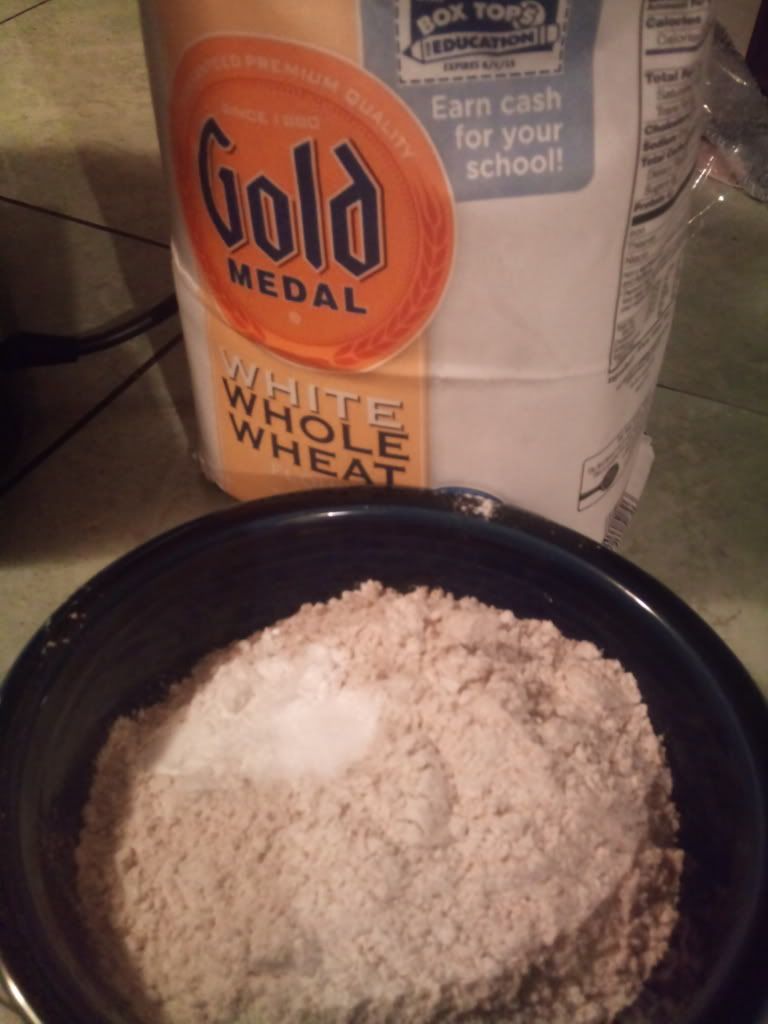 Once the flour was somewhat mixed in, I scraped the bowl and beat it just a little longer to make sure it got evenly mixed.
Well, that picture is a little blurry, but you get the picture. It's starting to look like cookie dough!
Stir in peanut butter chips.
I couldn't find plain peanut butter chips, but I did find some that were half peanut butter and half chocolate chips. Trust me, I didn't complain!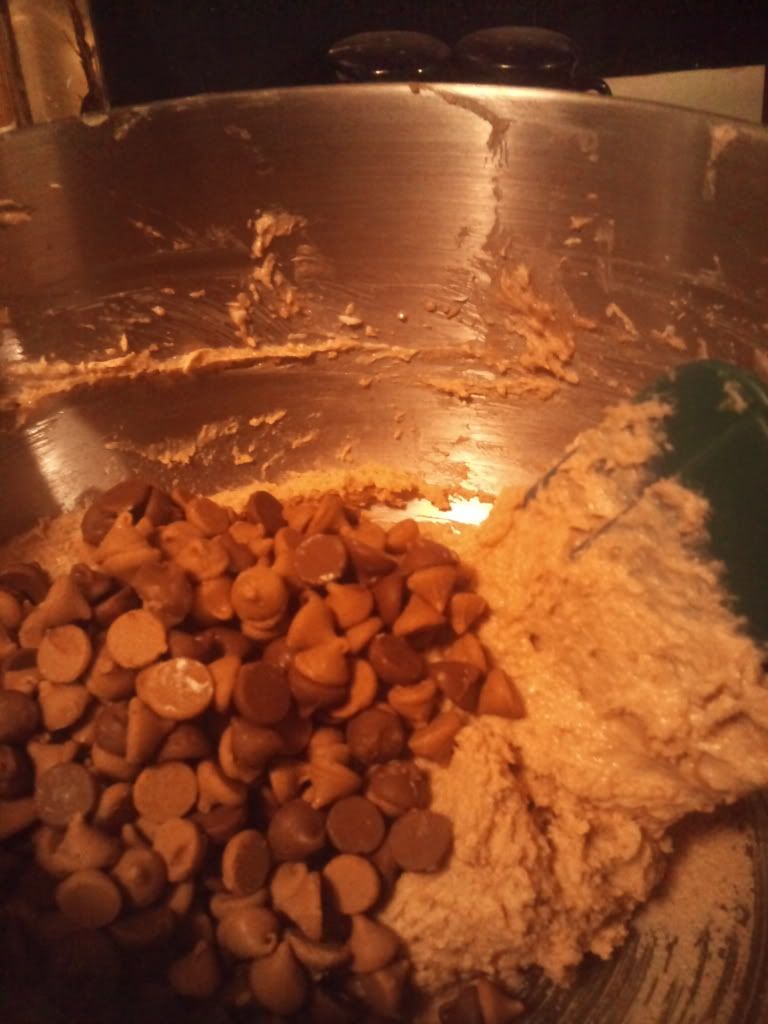 Shape dough into 1½-inch balls.
I figured golf ball size was about right and I think I was right. I ended up with about 22 balls and the recipes said it should make about 2 dozen.
Coat balls with granulated sugar.
After I put the sugar in a small bowl, I just rolled the balls around in it.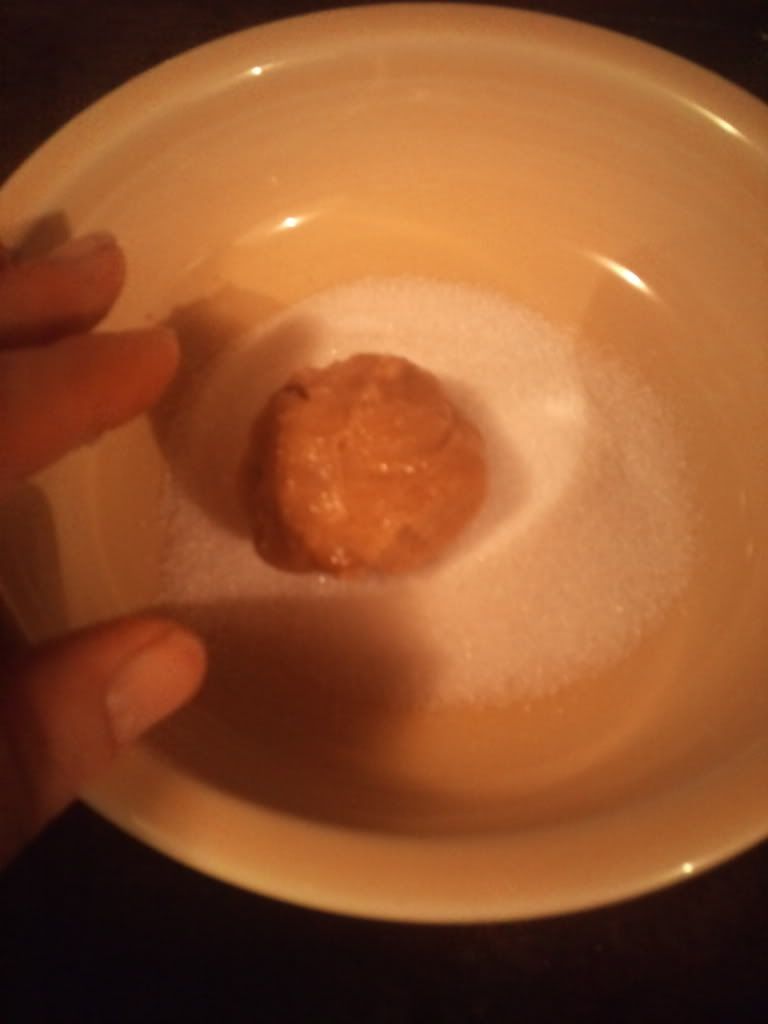 On ungreased cookie sheets, place balls about 2 inches apart (do not flatten).
Bake 9 to 12 minutes or until light brown.
All ovens bake differently, so I set my timer for 8 minutes and checked the cookies. After 9 minutes they were perfect.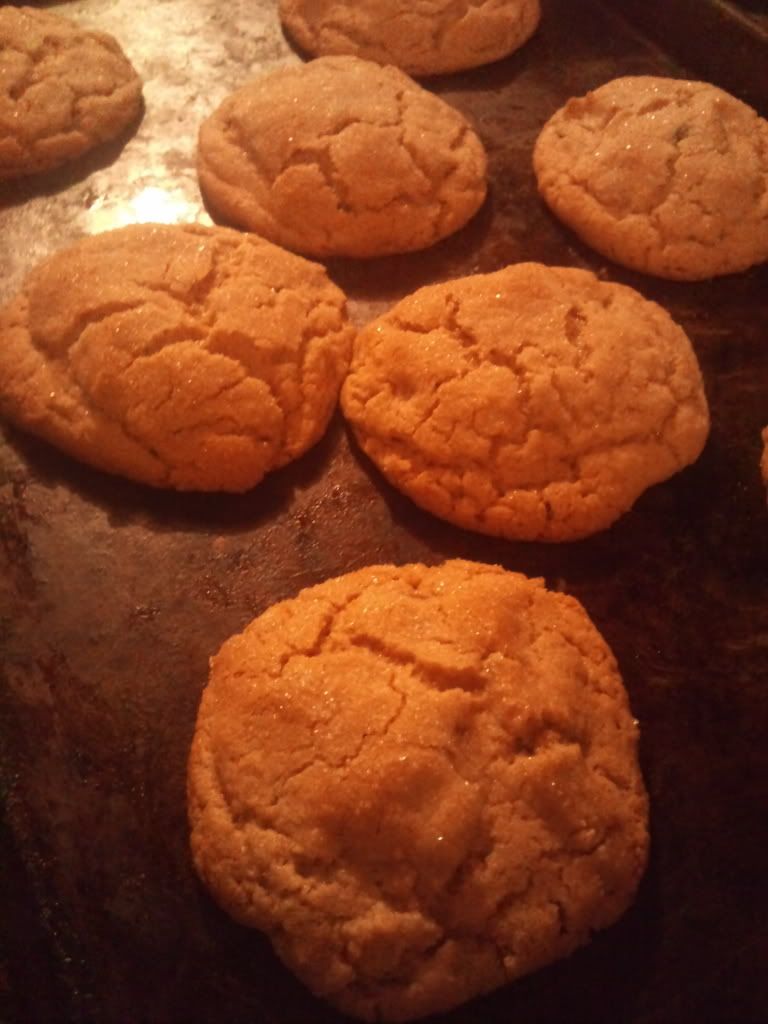 Cool 5 minutes; remove from cookie sheets to cooling racks. Cool completely; store tightly covered.
They should have added, what cookies you have left, let them cool completely; store tightly covered! I think we ate almost half a dozen before they had even cooled 5 minutes!
These were really good cookies! I could tell a little bit of difference in the flour, but it had nothing to do with taste. As a matter of fact, I'm not exactly sure how to describe it, but it had to do with after eating the cookie I noticed there were like a few little flakes of what I guess were the ground up wheat hull or something. It wasn't anything that would stop me from making these again and eating them! My husband didn't have any complaints so he probably didn't notice it. I figure the only reason why I noticed is because I'm a princess and the pea kinda girl.
Now let's get to the giveaway part! Here's what you'll win, compliments of Gold Medal:
You'll get the recipe cards, a coupon for full price on a bag of Gold Medal White Whole Wheat flour and a cookie jar. I love my cookie jar! I'm actually thinking about using it for my Gold Medal flour.
To enter, leave a comment telling me your favorite cookie recipe or what you'd like to make substituting white whole wheat for regular white flour. If you can't leave a comment here for some reason, you can leave your comment on the
Cooking With Kick
Facebook page.
You can also enter by following me on Twitter @cookingwithkick. Be sure to send me a tweet letting me know that you're following me!
Make sure I can get in contact with you either through Facebook, Twitter or by email to get your address if you win.
You have until 11:59 p.m. CST Sunday, October 2, 2011 to enter. The winner will be announced Monday afternoon. Good luck!
For more information on Gold Medal White Whole Wheat Flour, you can visit these websites:
Betty Crocker´s Website

http://bit.ly/gmwholewheatwhite
Betty Crocker´s Facebook page

http://on.fb.me/GMWholeWheat
"Disclosure: The Gold Medal White Whole Wheat flour product, information, and giveaway have been provided by Gold Medal through MyBlogSpark."