Sunday, June 12, 2011
I sat there for about 15 minutes debating if barbecue sauce and black-eyed peas would taste good together. Finally, I convinced myself that it couldn't be that bad. Well, it wasn't bad...it was AMAZING! The best part was that it was so quick and easy.

2 cups of cooked Rice
1 pound Ground Turkey (or Ground Beef)
1 Bell Pepper
1 small Onion
1 cup Barbecue Sauce
1 can Black-eyed Peas
1 teaspoon Salt
2 shakes Pepper
First, I got my rice started. If this isn't your first time here, then you know we eat alot of rice! If you need to know how to cook rice, just click on the link for rice under Labels.
I chopped up the onion and bell pepper and put it in the skillet with the ground turkey.
See my new skillet?! My mom found it at a yard sale for $10.00. It's a Wolfgang Puck brand. I like it because it doesn't have the non-stick coating and it matches my other pans. It's so hard to find skillets these days that don't have the coating. Anyway, I turned the burner on medium-high. Once the turkey was brown, I turned the burner down to medium-low and put the lid on the skillet and let it simmer until the bell pepper was tender.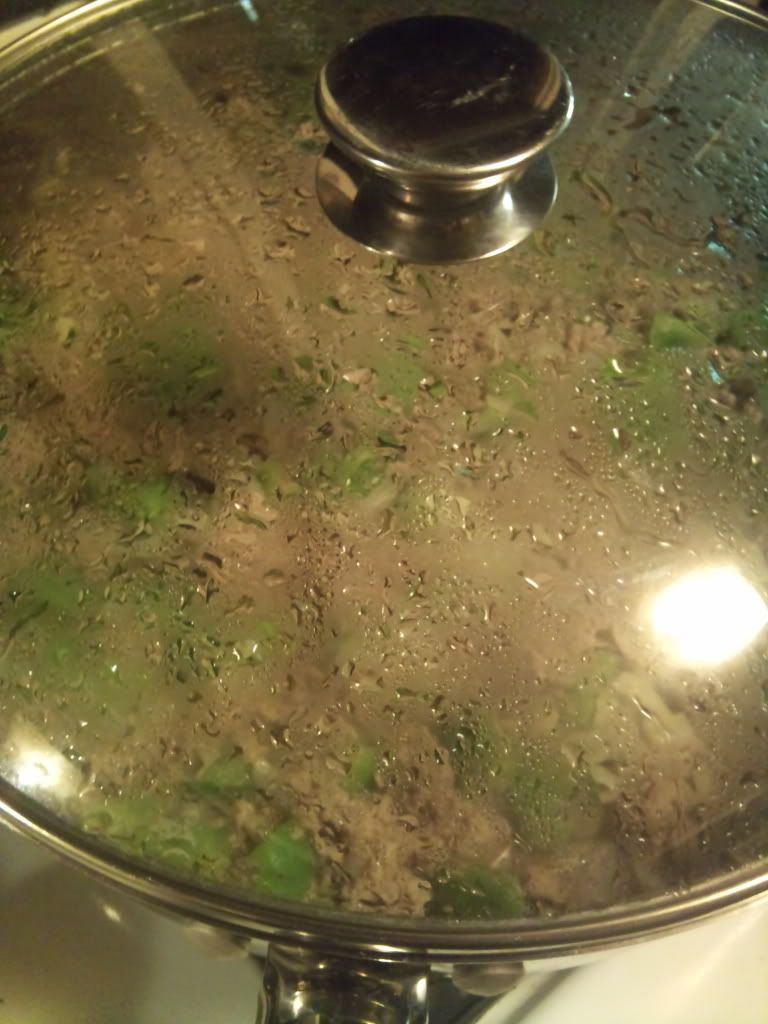 I'm telling you, this dish is SO easy. Next, I opened the black-eyed peas and poured the liquid and everything in the skillet. By the way, I didn't drain the meat because I used turkey, but if you use ground beef, you might want to drain the grease off.
Then I poured in the barbecue sauce. I just used the store brand of traditional barbecue sauce.
After I added the salt and the pepper, I stirred it all together, put the lid on the skillet and turned the burner down to low. I let it simmer until my cornbread finished baking (about 10 minutes) and then spooned it over the rice.
Talk about good! I gave hubby such a big helping that he couldn't eat seconds because he was so full. I imagine that this would have gotten a third helping rating if his first helping would've been smaller! You could definitely stretch this to make 6 very generous servings if you make more rice to go with it.